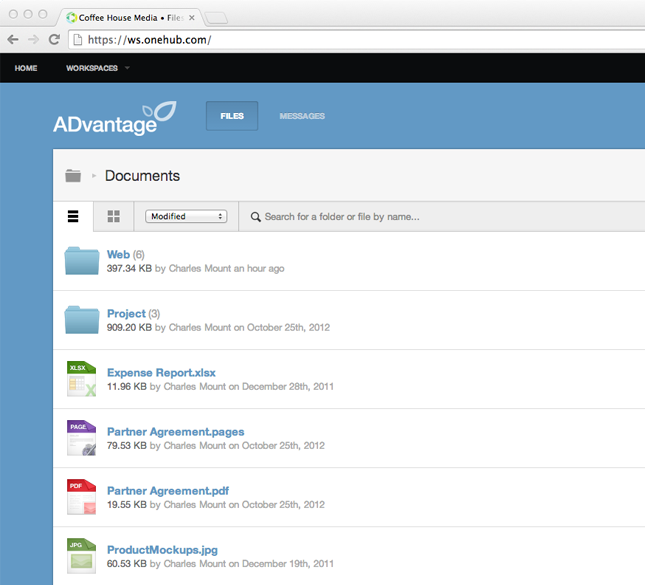 Onehub's client portal provides a neat and effective place for you to connect with your customers. This customizable area offers a wealth of options for customization and branding that allow you to make it a seamless extension of your own site and services.
If you provide a business service such as accounting, marketing, or legal services, one of the best ways to get the most out of Onehub is to create a client (or customer) portal. Doing so gives your business a more professional look, improves your user experience, and can help you with customer retention.
We've helped thousands of companies with their collaboration tools over the years, and here are the three best practices we've learned for creating an effective client portal.
Organize Your Client Portal
Setting up a Workspace and sharing files is easy; organizing the information within those Workspaces requires a little more forethought and planning. Since there is no one-size-fits-all solution to optimizing your files, consider the following factors:
How much information are you sharing, and what type of files?
How many clients do you have?
How much information do you need to share with everyone versus individual sharing?
How often are you updating various files and documents?
Onehub is built to grow with your company, so be mindful of an organizational approach that will scale with your client base. What works for 10 clients won't necessarily work for 1,000.
Brand it
One of the main reasons to create a client portal is to give your customers a better user experience. With our customization tools, you can use your logo and brand colors to match your existing site. These visual cues will help reassure your clients that they are still interacting with your company.
Customizing your Workspace is easy. Here's a quick video walking you through the steps.
Integrate it
To create a truly seamless experience, we highly recommend integrating your Onehub client portal into your own site through our custom domain and white labeling options.
Moving your client portal to a custom domain puts your Workspaces on a URL that you control. So instead of redirecting users to Onehub.com, they never leave your chosen domain.
With our white labeling solution, you can remove all Onehub branding from your Workspaces so your customers only encounter your logos and customization.
We've also found that the best way to get your clients to interact through your customer portal is to embed a form directly into your site. Create a "Client Login" button on your homepage that prompts clients to enter their credentials. With custom domain and white labeling activated, they will be taken to a page on your domain and presented with your logo and branding for a frictionless experience.
If you're a Onehub customer who's set up a successful client portal, drop us a line and tell us how you did it! We'd love to share your story. If you're interested in setting up your own client portal, our support team is here to help.
Streamline document sharing and client communications using our cloud storage solutions on Onehub. Reach out to start working on your personalized client portal.