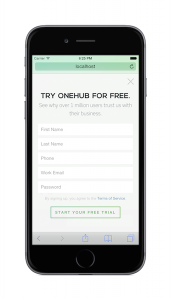 We take now, a (spoiler free) moment to remember Mad Men, which had its series finale last night. Though set in the world of advertising, it wasn't about ads. It was about the evolution of the characters and the world in which they lived.
In much the same way, it's facile to think that "design" is simply about making things look good. Good design, too, is a way of understanding and interacting with our rapidly evolving world. Design has grown in importance over the years to become a key component to the success of any product.
The challenge is that there are so many products to design for: phones, tablets, desktops, even how a product looks on a watch must now be considered. This proliferation of devices has spawned a new way of thinking about design — a device-agnostic approach to designing products.
And — here is a spoiler — we've been putting these principles to good use as we re-design our own site. You can get a sneak-peek over on Dribbble). Onehub Design Lead, Matthew Anderson is leading our device-agnostic charge, so we asked him about it, and what it all means for the future look of Onehub. Continue reading →