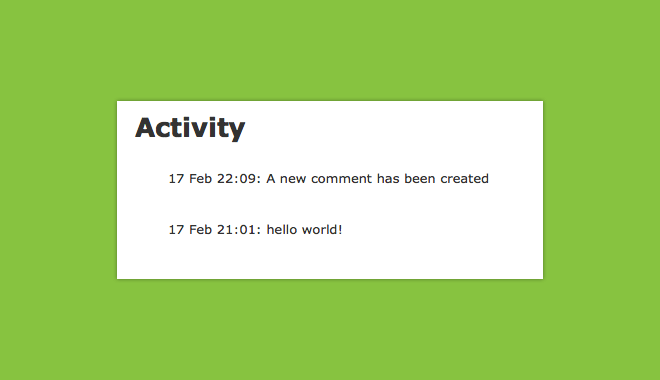 Here at Onehub, we have an activity log for actions users perform. That way you can see when Workspaces, files and folders are created, moved, deleted, or downloaded. You can also see when comments and messages are made as well as many other events.
Currently, we maintain a separate project that handles streaming these events to your activity log. This project is a piece of legacy software (read: hard to maintain and confusing to trace). With the release of Rails 5.0.0beta2, we took a dive into one of Rails 5 most exciting new features, ActionCable.
ActionCable greatly simplifies the complexity of getting websockets up and running to stream real-time event notifications to the activity log. We can now have our activity log logic live right alongside our application logic.
Based on a video tutorial by DHH for a chat app, I put together a short tutorial on how to get an event system up and running in the new Rails 5 app. This tutorial assumes you have created a new Rails 5.0.0beta2 (installing Rails 5 here) project and have a redis server up and running (installing redis).
Lets make some events!
First we're going to make our event model. An event will have a message, and we'll use it's created_at field for the timestamp

$ rails g model event message:string