Welcome to the Onehub series dedicated to helping you get to know the people that work at Onehub (you're welcome). As you know, each month we feature a Onehub employee. This week, we have decided to highlight our lead technical officer, Brian. Brian recently finished a 200-mile bike ride from Seattle to Portland, so we thought this was a great way to dig into his love for biking.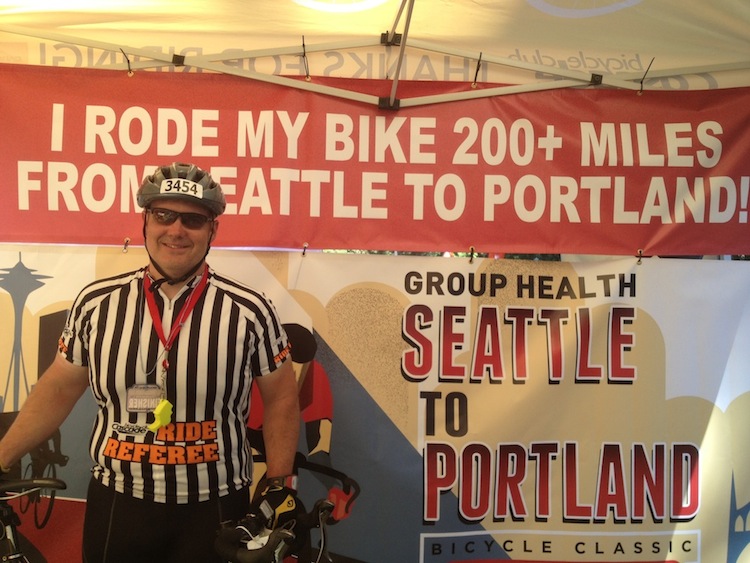 Brian's Crazy Energy for Cycling
We had a great conversation with Brian about his love of riding bikes.
Q – When did you start cycling as a serious activity?
A – When I was a younger kid, having a bike meant you could get places. I was more into bicycle motocross (bmx) in those days, and just jumping things. In my early 20's, bikes were a way to commute in the city. There were great gaps of non-bicycling, as life's events occurred. A few years ago, in my mid-40's, I became more serious about long distances than I'd been when I was younger – it's been a way to exercise, have fun, and sometimes commute. This was my fourth time riding from Seattle to Portland.  I'm not sure I consider myself serious – by the "Internet Theory of Increasing Extremism", it's easy to find folks like the Randonneurs who ride 600km or 1000km over consecutive days.
Q – What is it about riding bicycles that you love enough to do for 200 miles straight?
A – Around here, one of the big rides is the STP – Seattle, Washington to Portland, Oregon. Over ten thousand people typically do this recreational ride, and registration sometimes sells out by February. When I got back into biking again, STP was an obvious goal. I enjoy the personal achievement of riding long distances. The first year, I was having difficulty finding friends or co-workers that wanted to do the STP, so I volunteered to be a ride referee; I found that adds a whole dimension of fun, as it's like an opportunity and excuse to ride with everyone. Biking long distances provides lots of thinking time.
Q – How did you handle riding 200 miles? Did you have a strategy of any sort?
A – The Cascade Bicycle Club, organizer of the STP, publishes a 'training guide' every year to help people prepare physically. The first year I did STP, I took advantage of a series of weekend training rides they offered, which scaled the distances up weekly from 20 miles to 200, from March to July, and also taught and reinforced bike-riding safety, skills and etiquette.  The mental component first required the decision that yes, I was going to do it, obtain the support of your family or friends (it's going to take some time), commit to consistently train, that you can make time for it in your busy schedule. As I was training, I tried to keep the internal dialog positive – that rain is great to ride in. I tried to incorporate biking whenever I could – like riding to work, riding back home from a shopping trip while the family took the car. Initially, I kept track of mileage via old fashioned paper, but switched to using a GPS watch after two months. The first year, I put in over 1100 miles in preparation for the July ride.  All of that riding gets you in the mode that 'the ride' is just like all of the others that you've done where you've had to stay hydrated, eat enough calories, stay safe, and have fun.
This year, I did fewer smaller bike rides, but trained 3 times a week at Xplore Crossfit with the other Onehub folks. Activities like 'Airdyne sprints', and '300FY' can directly benefit biking; the back squats, lunges, box jumps, and general improvement in my core also made the hills (and everything else) easier.
Q – Does your family ride bicycles too? Were they on the 200-mile trek with you?
A – While everyone in my family has a bicycle, so far none has committed to wanting to do the STP yet. My wife has been very understanding about dropping me off at 5am starts, and picking me up at the bus or train late at night. I'm going to talk my 14 year old son into it next year.
Q – Do you have a favorite professional cyclist?
A – While I'm happy for the renewed spirit of competition in the Tour de France, I don't really follow it. When I've been doing long rides, I've had the chance to meet people that I admire more than the folks on TV; for example, riding to work one day, I met a 74 year old guy that continues to train, continues to ride the STP, and rides his age in miles on his birthday every year. This year, a friend of mine who is over 70, previous multiple-time STPer, but has been off a bike for a number of years rode 85 miles of it. Also this year I met Jerry Baker, the guy that has done them all so far!  I admire the commitment a family shows when mom and dad are riding with their nine or ten year old, and when they've all got big grins on since they're crossing the bridge into Portland, only about 8 miles from the finish. My 'favorite cyclists' are those folks that are proving something to themselves. Oh, and the guy who rode the unicycle 200 miles? He must be crazy, but a good crazy.
Q – How can those interested keep up with your cycling accomplishments?
A – Come on a ride in the Pacific Northwest! Also, keep an eye on Onehub's facebook page. My team members often publish slick, and also embarrassing, photos of me there.
We hope you found our interview with Brian to be interesting. We can't wait for you to meet our next staff member next month!