Many of our users have multiple Workspaces because they often create one for each customer and/or project. If you're a power user, this can lead to a long list of Workspaces that need to be searched through in order to find the one that you're looking for at any given moment.
At Onehub, we are always looking for ways to make our software work better for you. This time we've created a new favorites feature that makes finding your favorite, most commonly used Workspaces, much easier.
Introducing Onehub Favorites
All your Workspaces, folders, and files in Onehub can now be marked as a favorite by clicking the new star icon. The star icon appears to the right of the name when hovering over any item in the Onehub Home. When you click the star, that Workspace, folder, or file will be turned in to a favorite card at the very top of Onehub Home. Each item you favorite will also be added to a new menu in the Onehub bar, giving you instant access to your favorites.
The favorites card(s) that appear at the top of your homepage will look like this: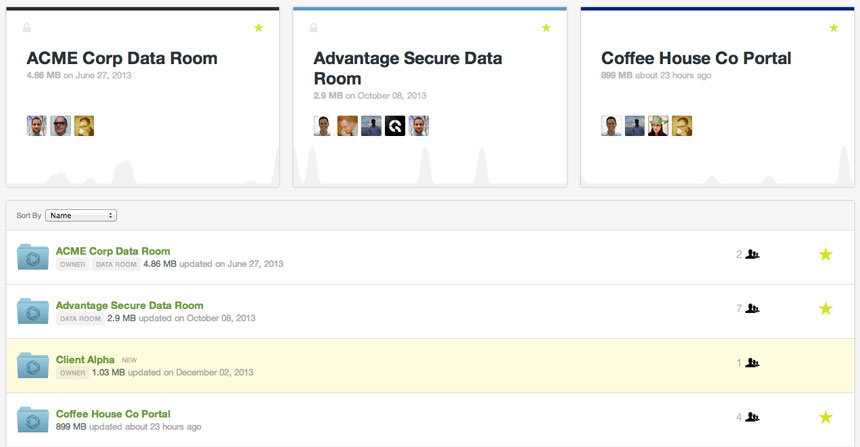 As you can see, it includes the title of the Workspace in large, bold letters. This is followed by the size of the Workspace and the date of last access. Next you'll see the faces of the people that have access to the item. Hovering over any face will reveal their profile information.
Have you ever wondered how often Workspaces are being updated? For example, which day of the week generates the most activity? The last visual feature of the favorites card is the activity sparkline. Sparklines update daily and graph all activity for a given favorite for the last 30 days.
We hope this new feature improves your Onehub experience and makes you more efficient. If you have any questions on how to use favorites, please feel free to call our support team anytime day or night at 877-644-7774.