4 Key Tools for Your Remote Work Tech Stack
Posted On September 14, 2020
---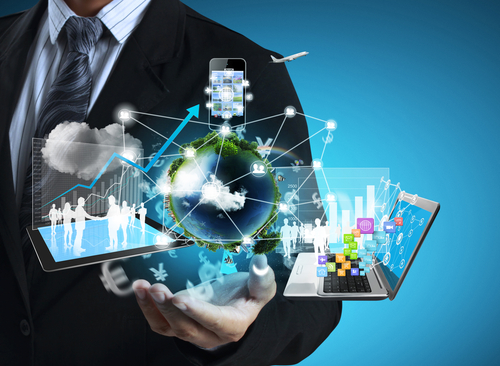 The sudden transition to remote working has meant that virtual tools and technologies are now uppermost in most business leaders minds. From chat and video to file sharing and more, there's lots to consider when it comes to empowering teams to work efficiently from home.
Businesses need to adapt existing elements of the business tech stack to make them more remote work friendly – as well as tackle new security and licensing issues. 
To help make the transition to remote working, there will also inevitably be new tools to adopt to optimize workplace collaboration. Most of all, employees need a central hub where everyone can communicate, maintain productivity, and keep company culture intact.
In this post we'll outline key tools you need to have in your remote work tech stack
1. A project or work management tool
When it comes to remote workforce management, it's essential to ensure each team member can track a project's progress and see which tasks they should be focusing on. 
Just because a team is decentralized it doesn't mean projects have to be. So a shared portal for all your work is key in order to minimize the time lost switching between different apps and tools – and so everyone can work together in real time.
Collaboration tools like Google's Suite or Onehub allow teams to connect and share documents, slides, and sheets – and let members comment. 
Certain project management apps offer users a way to collaborate on design or use roadmaps, as well as create mock-ups. These are particularly suitable for design agencies and developers. 
Others allow remote teams to use virtual whiteboards so they can get as close as possible to face to face working – with the ability to provide feedback in real time. 
2. A CRM system
Without the ability to engage in person with clients, a good CRM system has become even more important. Your customer relationship management system is a place to keep you on track as regards maintaining regular contact with customers. That way, you can continue to support and nurture them effectively. 
CRMs enable you to log interactions at all touchpoints so you don't overlook any red flag situations. 
A CRM is essential for your sales team, so that reps can keep up with where they are in the sales process and work out which communication methods are working best. 
You'll want to provide everyone with access to your CRM, too, as well as sales. For example, the marketing team will need to upload content to support the sales team, while the accounting team can use the CRM to ensure customers pay their invoices on time. 
Providing all necessary stakeholders with access will increase transparency company-wide. Now that we're working more remotely, team members must be trained to troubleshoot issues with the system themselves –  since they can no longer ask IT for physical support.  
Make sure your CRM integrates with your contact center cti software so you can provide customers with a personalized experience when they call. 
3. Video conferencing tools
Just a few months ago, video conferencing tools were only used sporadically. Now they're used for the majority of meetings. Video conferencing allows people to talk together in real time, thereby helping to facilitate better, more empathetic conversations and keep teams connected. 
Because you'll now be using this type of software a lot more, you may have to rethink how your current tools are organized as well as assign new access or permissions to users. 
You may have to change or upgrade your video hosting platform to keep up with usage requirements and ensure high quality of visuals, too. Quality is not only essential for live meetings, after all. It's essential so that you can record and distribute content whenever needed. 
If you opt for a higher level plan you'll be able to increase the number of users who can access the video conferencing tool. You will also be able to add in new benefits such as customer support and onboarding. These can help teams transition seamlessly to remote meetings. 
Make sure your video conferencing software can integrate with third party apps like Google Calendar. This will ensure everyone is reminded about upcoming meetings. 
It's also helpful if your software integrates with your CRM. That way people can book virtual meetings with you in place of face-to-face meetings. And if possible integrate your video conferencing system with your project management software so teams can collaborate asynchronously.
Your video conferencing software doesn't have to be used just for work-based meetings. You can use the video chat tool to set up virtual coffee breaks with colleagues or group lunches. This will help boost morale and boost productivity. 
4. A chat tool
When you're working remotely it's easy to get lost in endless email threads. To work efficiently you need to be able to have conversations in real time so you can make decisions quickly, share information, and get instant feedback from multiple team members and stakeholders. 
This is where a chat or instant messaging app comes into its own. It enables you to keep the conversation flowing and projects progressing. 
Make sure your instant messaging app integrates with your project management tools and your mobile operating system. That way, team members can collaborate across different platforms, increasing productivity. 
Look out for certain features in a chat app, such as the conversation layout. Being able to follow conversations easily is essential when working in groups. Also, it will pay to choose an app that sends out clear alerts and reminders. A good chat tool will make it easy to tag someone in a conversation, too, so they can be notified when they're outside the app. 
It's also crucial to make sure your team's conversations are kept private so select an app that keeps outsiders out. 
These are some essential tools to have in your remote tech stack. Having these systems on board will guarantee your business continuity and ensure your digital ad spend is working hard for you.
John Allen, Director, Global SEO at RingCentral, a global UCaaS, VoIP Technology and contact center software provider. He has over 14 years of experience and an extensive background in building and optimizing digital marketing programs. He has written for websites such as Ceoblognation and 3dcart.
---
Trending Now