The ability to upload entire folders from the browser is an incredibly common feature request. While we have supported folder uploads via FTP, and Onehub Sync for some time now, technical limitations have prevented us from handling folder uploads through the browser. Fortunately, that situation is starting to change.
Google Chrome recently added support for folder uploads, and we wasted no time adding it to Onehub! So, if you are using the most recent version of Chrome, you can now upload entire folders to your Workspaces – directly from your browser.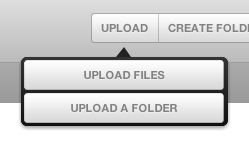 The change is virtually seamless, as Chrome users will simply be presented with two options when clicking "Upload". All you have to do is click "Upload a Folder", choose the folder you want to upload, and click "Select". The entire folder structure and all files will be uploaded through the browser.
We hope you're as excited about this as we are, and we will continue to activate this feature in other browsers as they begin supporting it.