Ever since we released our iOS app, customers have been asking about the possibility of an Android app. Well, the wait is finally over. We are happy to announce that Onehub for Android is now available from the Google Play Store.
With this initial version, you have access to the essential function of browsing your Workspaces, folders, and files. If your Android device includes software for viewing files such as images, videos, PDFs, and Office formats; you can also download any of those file types and view them directly on your device.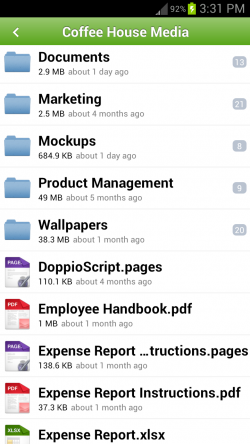 We're hard at work on the next version of the Android app. In the coming months, we'll be adding more functionality to make Onehub for Android even better including:
Uploading files and creating folders
Inviting users to Workspaces, folders, and files
Commenting on folders and files
Sharing links to folders and files
Viewing Workspace activity
We look forward to hearing your feedback on our initial release. If you have anything to share about the newest member of the Onehub apps family, send us an email at feedback@onehub.com.