New Feature: Collaborate Effectively with Workflow Tasks
---
This has been a very exciting month for Onehub! We're happy to announce a major new feature: Workflow Tasks. With Workflow Tasks you can ask people in your Workspace to review or approve files. You and your team can comment and communicate about these workflow tasks, and track them toward completion in the new Workspace tasks page.
Try it now! Go to any file and click on that fancy new tasks tab to create your first workflow for a fellow workspace member.
Creating your first workflow task
We spent a lot of time thinking, iterating, and mocking up ideas on how to make task creation as smooth as possible. We initially had lots of clicking and typing that you needed to do, but the more we used it, the more we realized we needed to remove any and all friction in this process.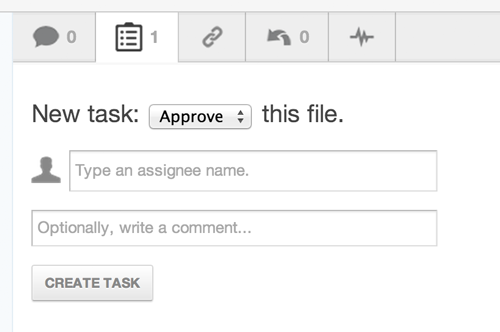 The result? If all you need is someone to approve a particular file, just choose the assignee, and click "Create Task". No title or comments is needed, and "Approve" is already pre-selected.
Once you start creating tasks, we're sure you'll want to create some more. Want your board members to review the minutes from the latest meeting? Assign a Review Task to all of them. Need the head of marketing to approve the ad copy for an upcoming campaign? It's just a few clicks away.
Workflow tasks have comments
Each workflow task has its own stream of comments, letting you communicate directly with the people involved with a task to follow up with a question or give some feedback. You can also add a comment while completing a task. This builds up a nice-looking activity feed for each task as it makes its way through to completion.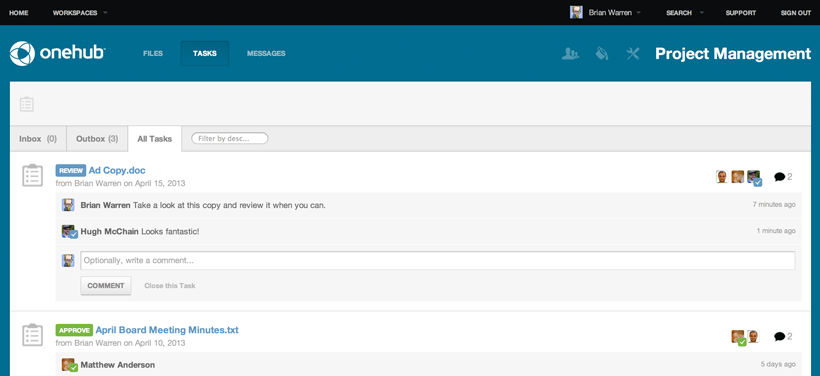 All your tasks, in one place
The more you use workflow tasks, the more powerful this feature becomes. We've added a tasks page to give you a way to view the tasks for a workspace in a few different ways:
Inbox: This is all the tasks that are assigned to you.

Outbox: This is all the tasks you've assigned to others in the Workspace.
All Tasks: You guessed it! All tasks is an overview of all the tasks in the Workspace.
Our Goal: Better workflows
Onehub is all about giving you the best experience possible when sharing and collaborating with your files. That was our guiding principle in building the workflow tasks feature.
We didn't want to build a stand-alone project management application bolted onto your Workspaces. Instead, we focused on the types of interactions that encourage building flexible workflows around files.
We hope you're at least a little bit as excited as we are about this feature. To get started using tasks, just go to a file and click on that brand new task tab to create your first task.
---