Simplified Pricing and Unlimited Storage
---
Today, we are introducing exciting new pricing plans that are simpler and provide significantly more storage to all of our customers. We have three main areas of change to tell you about: unlimited storage, user-priced plans, and a new plan structure.
What's New
Our pricing plans have been simplified and renamed because we want Onehub to be as easy for you to use as possible. Here is what's new:
Old Pricing Plans: Personal, Team, and Business
New Pricing Plans: Team ($29.95/month) and Business ($99.95/month)
We've done away with the $499/month plan. Don't be fooled by that third column you see on our pricing page. That is actually pricing for our amazing Enterprise users who like to host Onehub on their own servers behind their own firewalls.
Another fantastic change is that all the plans are eligible for White Label Customization and Custom Domain Mapping. This feature used to be reserved only for business plans, but we felt that all users should have control over customizing their Onehub account. Now, team and business accounts alike can add on White Label and Custom Domain features for $100/month.
If you're intrigued, keep reading to learn even more about the awesome new Onehub pricing plans. Otherwise, keep having fun using Onehub for all your document sharing!
Unlimited Storage
You asked and we listened: With these new plans, the Team Edition now includes 1TB of storage, and the Business Edition has unlimited storage. Gone are the days of monitoring your uploads or having to purchase additional storage.
User Pricing
Our new plans focus on providing the most value to users based on the needs and the size of their teams. To that end, we've changed up the plans and how we charge for them. The Team Edition ($29.95/month) includes three paid users. Each additional paid user is $10/month. Our Business Edition ($99.95/month) includes five paid users. Each additional paid user for it is $15/month. The Business plan is loaded with extensive professional features such as data room security, audit trails, and many extra security features.
Also, we increased the annual discount: Now, if you choose annual billing, you save 15%!
What's the difference between a paid user and a free user?
A paid user is any Account user or any user in a Workspace who has a Collaborator, Moderator, or Administrator role. All other users are free and do not count against your limit.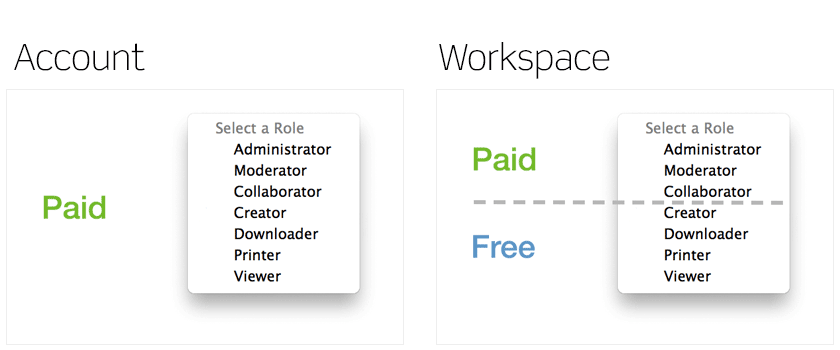 To help you better view and manage your users, we've built a brand new Users tab that's available from the User Home. From the Users tab, you can see all of your free and paid users, and you can invite new users to your account or individual Workspaces.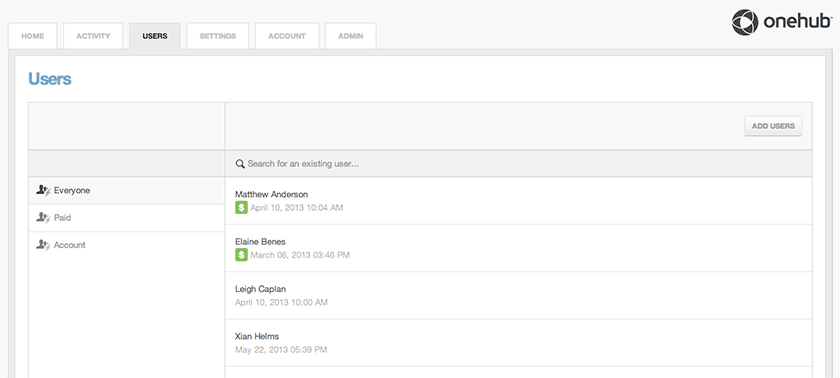 For more information about our pricing and features, head over to our pricing page. We also wrote a support article which has more details related to adding users and billing. Of course, if you have any questions at all, just let us know via email at support@onehub.com or call us at 877-644-7774.
---