We kept hearing from customers that when they were out of the office and received an email attachment, they wanted to share it securely with colleagues over Onehub. Well, we listened and have now made it possible for Onehub users to control when files are stored and shared from their iPhone and iPad.
With so many people on the go, it needs to be easy to store and share all the files you want from anywhere, and across multiple devices. We have just released an update for our iOS app that allows you to save your files quickly and securely to Onehub.
This exciting new feature is available to anyone with an iPhone or iPad and a Onehub account. It allows users to save files using the same directory and file-level security they've grown accustomed to using with Onehub to share files and collaborate on a daily basis. Now users can easily save attachments from an email to a Onehub folder on the iPhone and iPad. Here is how it works:
When you receive an e-mail with an attachment on your iPhone or iPad, you open the attachment and determine whether it should go onto your Onehub site.
If this is a document that should be shared for collaboration purposes, select the arrow in the upper right-hand corner of your iPhone or iPad screen. This will open the sharing screen.
You will see the familiar Onehub icon as one of the options. Select the Onehub icon to open the app.
At this point, Onehub opens and you can select any folder on your Onehub site.
Tap the save button in the lower right-hand corner of the iPhone or iPad screen to upload it to the site.
Once the upload is complete, the file is in your Onehub account and available for collaboration.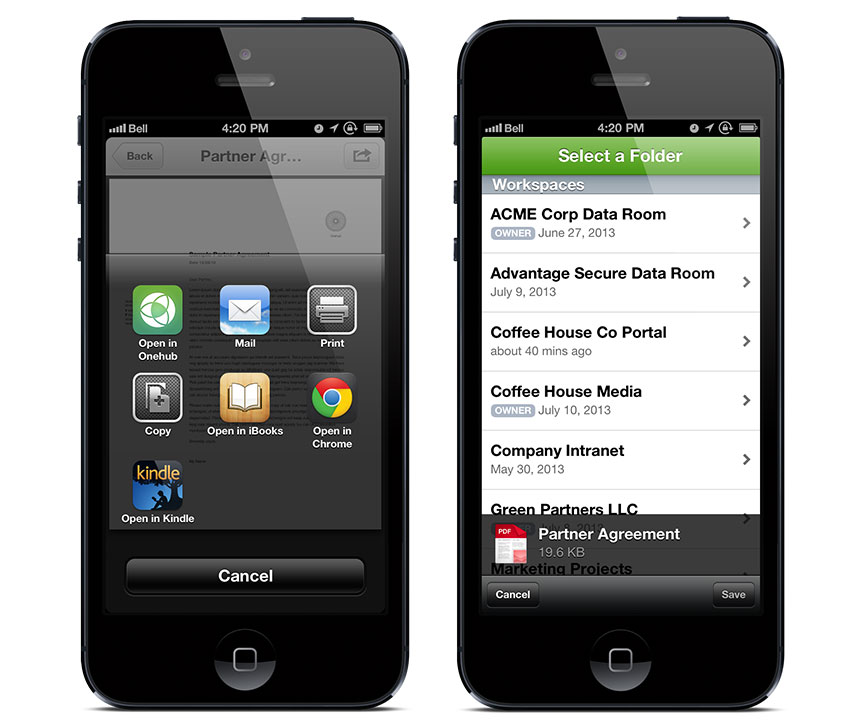 Why would you want to do this? Imagine you are out in the field when a client sends you an updated spreadsheet that the rest of your team needs to see.  The updates will affect the project's bottom line, and the customer wants an answer on the new costs today. You can now upload it to your Onehub account immediately, alert your team so they can begin working on it, and go about your day without needing to rush back to the office.  In today's competitive market, quick turn-around time is critical.  Onehub makes it easy for users to manage file sharing and collaborate, even when you're on the road.  This new feature on our iOS app will make your work life easier and more productive.  Onehub is committed to helping users like you improve your business, and will keep working to bring more updates and improvements to you, our valued customers.
Want to learn more or get a free demo of this new feature? Just contact us at onehub@onehub.com. If you haven't signed up for your free 14 day trial, do so here.