A quick word about passwords
Posted On January 12, 2016
---
By far, the most popular request our support team gets is: "I need help with my password."
We get it. There are a lot of services out there and they all require passwords. It's easy to lose track — especially if it's not something you are using every day. So to help you out, here's a quick cheat sheet for setting up and retrieving passwords:
Setting up a password
By now you should know better than to re-use passwords on different services. That is a big no-no. And there are only so many clever mnemonic devices you can cram into your brain to remember dozens of different passwords, each with their own spelling, caPitaLIZation, $p3c1@l characters and numbers.
You may want to look into a password manager like LastPass or 1Password. These helpful apps help you generate strong passwords and autofill them in whenever you visit a site requiring your login info.
When creating a Onehub account, you can enforce a complex password policy across all your users. This will mean users must create a longer password with a combination of numbers, caps, special characters, etc.
Changing your password
If you're feeling like now might be a good time to beef up your password, changing it is a snap. Just sign in to your account and click the "Settings" tab. From there choose "Password" from the right hand menu.

Enter your current password and create the new one as instructed.
Retrieving a lost password
Onehub never gives out passwords, and you should never give your password to any of our employees (or anyone else for that matter!).
If you lose your password, that's okay! You can reset it quickly by going to the sign in page and clicking "Forgot password?" Instructions for resetting your password will be sent to the email address associated with your account.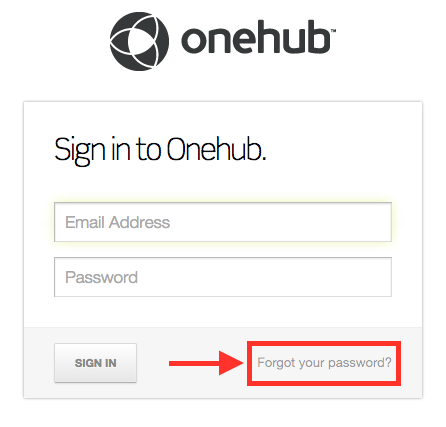 That's it! If you have any questions about password maintenance or any Onehub feature, feel free to contact our support team.
---