New Onehub iOS app update available now
---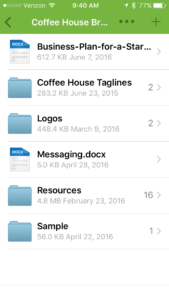 Whether you're on a boat, hitting the beach or just barbecuing in your backyard, Summer is the season when you want to look your best. So now seemed like the perfect time to release a big update to the Onehub iOS app.
Our team has been hard at work making some tweaks and changes to the app to make it look, feel and work even better (and make you even more productive). Here is what's new:
A ton of polish applied to the look and feel of the app.
New high resolution icons throughout the app.
Integrated the Workspace, folder, and files list to match the web service.
Redesigned the file upload experience.
Improved the performance of swiping over a folder/file.
You can no longer change the file extension of a file and break it.
Fixed a memory issue that could cause the app to crash over time.
Fixed a bug where the player bar could cover up the Onehub actions on video previews.
Fixed a bug where you could not create folders on certain iPhone models.
Having a refreshed iOS experience will help you get your work done faster, so you can get back to enjoying the boat, beach or the comfort of your own backyard.
---
You may also like