Meet Mike McCracken, Onehub developer, robotic mini golf enthusiast
Posted On August 11, 2016
---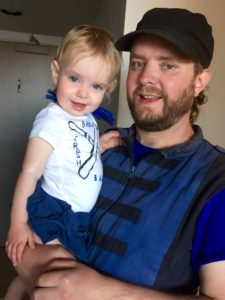 Onehub has a lot of big plans for the back half of 2016. Obviously we can't talk about them all here and ruin the surprise, but we can give you the vaguest of teasers and say that we have hired Mike McCracken to make our upcoming products even more awesome.
We sat down with Mike, to ask him about what he'll be doing at Onehub, and how industrial presses can make mini golf better.

Who are you and what is your role here at Onehub?
My name is Mike McCracken and I'm a new Full Stack developer for Onehub. Basically, I'll be helping with everything from database design to front-end scripting to create and implement new products and features for Onehub.
You've been freelancing for a long time, what made you want to get a job here?
Freelancing is great because it affords excellent flexibility. But after doing it for so long, I was ready to work in a team environment and have steady collaborators to learn from and build greater things with.
After meeting with a bunch of companies, I really wanted to work at Onehub because it has an exceptional team and culture.
What do you know about robotic mini golf courses?
You must be referring to Smash Putt, the pop-up, industrial, mini golf I helped run here in Seattle. It started back in 2008 when a good friend went on a road trip with a girl who insisted on stopping at every miniature golf course along the way. She had her own rules, and my friend decided if mini golf needed extra rules, there was something wrong with it — and his friends could fix it. So he and myself and some other friends banded together to fix mini golf… with robots and lasers.
Smash Putt had a nightclub feel, it was a renegade, mechatronic version of miniature golf featuring drill presses that would take a chunk out of your ball, a laser filled heist hole, and what we believed to be the world's only scratch-and-sniff miniature golf obstacle.
Thousands of people would come and enjoy it and there are rumors it will be coming back this winter.
What do you do for fun?
I'm a drummer and for the past 8 years I've been performing in a renegade marching band. We basically crash parties and perform in the streets to try and make peoples lives a little weirder and a lot more fun.
Anything else?
I have an 18 month old daughter who is now capable of walking to the door yelling "dada" and giving me a hug when I come home at night. She is amazing and growing so fast. It makes me nostalgic for the past, appreciate the present and look forward to the future.
---
Trending Now