Onehub ranks top 10 for most popular document management software
Posted On February 27, 2017
---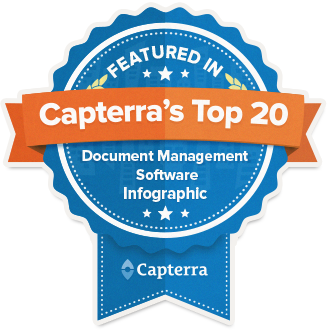 We are pleased to announce that Onehub was ranked among the Top 10 Most Popular Document Management Software solutions, according to Capterra, an online resource that matches businesses with software needs.
With more than 450 document management software providers listed on Capterra, breaking into the top 10 is quite an accomplishment, and a testament to the hard work we do here at Onehub. A post on the Capterra blog explains how they determined the rankings:
It is based on a popularity index that takes into account:

Number of active customers
Number of active users
Metrics of Social Presence (Google +1s. Twitter followers, LinkedIn company page followers, Facebook likes, Klout scores, and Capterra reviews)

Unlike traditional market share reports, we do not consider company revenue as part of this equation. First of all, we believe popularity provides a better reflection of true market share than looking at revenue alone, and secondly, we do not wish to exclude privately held companies who do not publicly share revenue numbers.
We'd like to thank Capterra for the recognition. We strive to provide all our customers with not only the best document management software, but also with a complete set of business and collaboration tools modern companies require to succeed in today's competitive market.
---