Top 5 Use Cases for Virtual Data Rooms
Posted On December 21, 2018
---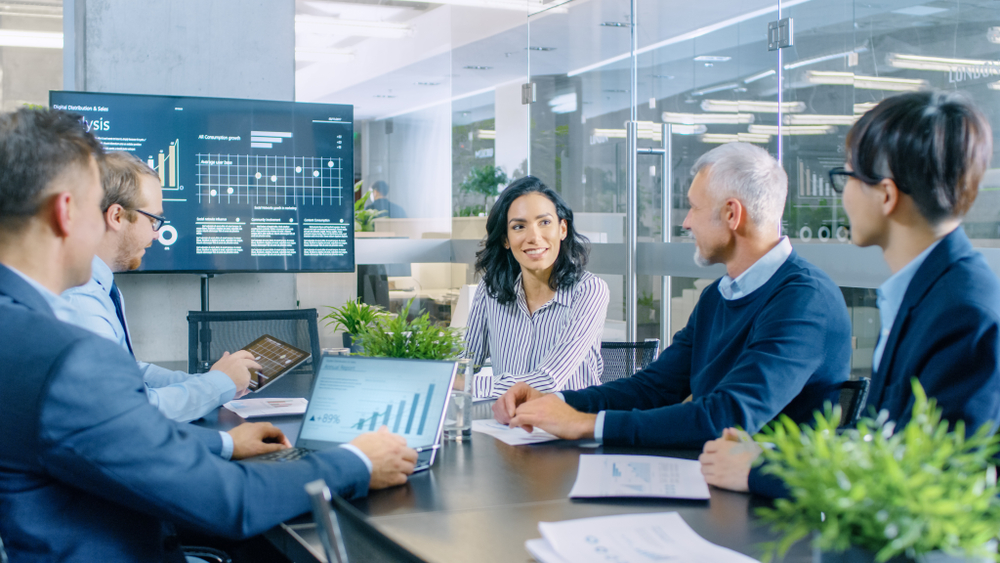 For many types of businesses, in a variety of industries, their data is among their most important assets. In an ever-changing online world, data security is of the utmost importance. Between hackers and new regulations and stipulations on users' online privacy, your company can never be too careful when it comes to protecting its information. That's where virtual data rooms can help.
It's important to note that data rooms shouldn't be confused with general secure file sharing scenarios. They are intended for very specific use cases. Virtual data rooms (VDRs) first originated in the financial industry. Today, M&A due diligence is still the top use case for a data room. When considering businesses that commonly exchange sensitive information online such as lawyers, large financial corporations, and many others, these data rooms are a must. In order to properly do their jobs, they need to know their data cannot be accessed by outside parties.
Ultimately, the right virtual data rooms will allow your business to focus on their work, their customers and their business partners rather than whether or not their online information is in good hands.
Explore the importance of virtual data rooms, as well as five use cases for the online storage rooms. Then, consider which VDR would be the best fit for your organization and begin better protecting your information today.
Why Are Virtual Data Rooms Important?
There are numerous reasons why virtual data rooms are imperative for a business that operates online. VDRs allow your company to operate more efficiently and more securely. They also can enhance the trust your business partners place in your company.
Let's quickly review the definition of a VDR to ensure we're all on the same page. A virtual data room is a secure space online used to store and exchange information during various business transactions.
Consider businesses who routinely operate within the financial field, or lawyers who negotiate highly sensitive business deals. For them, it can make or break a business deal if their professional partners do not take their online security seriously enough. Worse yet, a security breach could have huge, legal consequences.
Next, let's explore some of the most common use cases for VDRs. You may be surprised at how these online storage platforms can enhance the way your company communicates with its clients and improve your business partnerships, regardless of the professional field you operate in.
#1. M&A Due Diligence
As we mentioned above, merger and acquisitions (M&A) due diligence is one of the most popular uses for VDRs today. Why is that? In a nutshell, virtual data rooms allow businesses to execute deals entirely online in these scenarios, rather than having to meet in person to sign documents or review paperwork. During due diligence, tons of confidential information is exchanged, so all parties need to be sure that their assets and intellectual properties are being safeguarded. Key stakeholders are sharing and collaborating on highly sensitive documents. VDR is used to help streamline this process by simplifying tasks and automating processes.
Specifically, for startups in the tech field, being acquired by a larger corporation is a common business practice (and one that many small companies hope for). Virtual data rooms for mergers and acquisitions offer many features that make going through a business merger significantly easier. VDRs are actually significantly more safe than traditional physical data rooms because all the information exchanged can be encrypted and controlled completely with user permission features.
VDRs also allow you to say goodbye to the idea of someone leaving the meeting with a document they're not supposed to have in their possession. These online rooms let you control who sees every file, and can even safeguard against cutting and pasting information within a document, or printing documents.
#2. Capital Raising
Virtual data rooms are ideal for companies who commonly raise capital. Fundraisers require secure online spaces where financial information needs to be housed, sometimes for several weeks or months. They also typically involve a variety of people from many companies and in a range of professional roles. Thankfully, virtual data rooms make previewing content types like images, documents and other files, super easy. This ensures you find the exact file you need for your event, in less time.
VDRs also offer a user-friendly Workspace so everyone can remain on the same page when there are lots of moving parts of your fundraising event. You can assign tasks, post updates and even send users messages, all within your VDR. It also offers data transparency, which is critical for potential lenders and investors.
#3. Legal Document Management
In terms of managing legal documents, VDRs are an excellent way to exchange information securely outside of your company's firewalls when you need to. It goes without saying that scenarios where extensive legal documents are present can be high-tension and fast moving. Virtual data rooms allow each party in a situation to have 24-7 access to documents in an organized, secure system.
When several lawyers from various law firms need to review and negotiate a large set of documents, you need an organized system online that you can trust. Consider specific situations, such as class action lawsuits that involve numerous people. A VDR lets your team easily and quickly assign new users permissions and upload various types of file formats. These situations are exactly what Onehub's VDRs are built for, due to their extensive role-based permissions and granular control at the folder and file level for users.

In terms of managing legal documents, consider some of the additional situations where virtual data rooms can be of help:
When your team is hit with a subpoena for additional documents and the other party needs it ASAP.
If a claimant needs to upload important data but wants it only to be visible to themselves and their lawyer. And, they also need to be able to share other information with other parties involved.
New court filings have just been made and various members of your team need to access it immediately.
#4. Regulatory Risk Management
When a significant change in laws and regulations occurs that impacts a business, things can get really hectic, really quickly. Does this scenario sound familiar? The cost of doing business changes, and all the sudden your investment isn't so attractive to potential buyers. Or, the local government passed a new law that your company didn't see coming, which impacts how you're able to sell your services. It's in these times that sensitive documents, financial statements, and many various types of documents need to be organized and housed online safely for you to start proving compliance.
When you're trying to make sense of a changing competitive landscape, the last thing you need to worry about is how you're going to get someone important the document they need, as soon as possible. Virtual data rooms allow your team to share documentation to various users, by quickly dragging and dropping files into your browser.
You can also track who has accessed which documents, and when, letting you monitor who has been in and out of your files. As you need to pull together various types of documents and create reports for regulatory risk management, let Onehub make the process more streamlined and secure. As you navigate regulatory risk management, our tools for compliance can make your lives significantly easier throughout regulatory processes.
#5. Commercial Real Estate Transactions
Commercial real estate transactions generally require several complex components. It's crucial that you're able to quickly send documents to the involved parties when you're in the middle of negotiating a big real estate deal.
For example, consider that during these transactions, there is often a huge amount of data on the physical property itself. These documents need to be uploaded and managed in a common area online for potential buyers and members of financial institutes to review. Oftentimes, this information also needs to be accessed immediately, by interested parties or lenders across varying timezones, so having an organized system that's easy to use 24-7, is vital.
Additionally, the financials for these real estate transactions will depend on what type of property the building is, for example an office complex versus a hotel, etc. All of this financial data needs to be shared with potential buyers. When negotiating a deal, you may start with several interested parties, and then eventually get down to the more serious parties involved the further along you go. Therefore, you'll need a system that offers more limited permissions, so you're able to present confidential financial data only to people who have first signed an NDA.
Virtual data rooms allow you to assign varying permissions levels to different users and also enable your team to easily change or revoke those permissions as you see necessary. As your real estate deals evolve, making sure the right people have access to the right information is key.
Opt for Virtual Data Rooms to Better Protect Your Information
Virtual data rooms help protect your company's information, regardless of the industry you're in or the size of your team. If certain security requirements are an absolute must for your team when it comes to your business partnerships, it's time to start using a virtual data room.
Learn more about virtual data rooms, as well as how Onehub can help you and your team operate more securely, and seamlessly, online.
---
Trending Now