How to Conduct a Business Deal from Home Using a Virtual Data Room (Without Looking Unprofessional)
---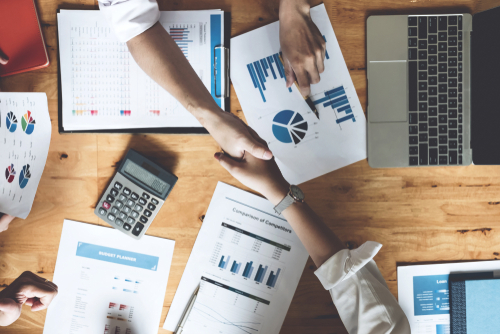 Chances are, you're an expert at conducting business deals for your company. After all, those deals are what keep your business going.

But do you know how to conduct a business deal from home?

Knowing how to bring in new clients and revenue from deals finalized in places other than your office is important. The first half of 2020 has shown us we can find ourselves working from our dining room tables with little warning.

Luckily, a virtual data room can make it all possible.

For those more comfortable in physical data rooms, you should know there are several benefits to using a virtual space instead. Making the switch to a virtual data room can help your company:

Reduce overhead as you convert paper documents to digital format. You can also skip the chaos and often high costs that come along with coordinating meetings in physical data rooms.
Gain better control over data through heightened security measures like audit trails, role-based permissions, and custom session timeouts.
Improve customer service by allowing customers to access documents, including proposals and project updates, on their time and from nearly any device.
Essentially, virtual data rooms can help you and your team complete business deals in a more efficient and comfortable manner for all parties, without sacrificing professionality.

Read through this step-by-step guide to securing business deals in a virtual data room to help you make the switch.
Step 1: Choose a provider based on your unique needs
You'll find there are plenty of options when it comes to finding a virtual data room provider. As you browse through your choices, know that features and cost structures can vary greatly.

However, don't assume that the most expensive software is the best or that the least expensive won't be able to keep up with your needs. The best way to choose a provider is to first write down the exact features you're looking for and what you have to work with as far as a budget.

How much storage does your company need?

What collaboration features will your clients expect?

Are there any other types of software you need to integrate with?

Knowing exactly what you need a virtual data room to do for you is the first step in completing a successful business deal within one.
Step 2: Set up your virtual data room
Now that you've chosen your provider, it's time to set up your data room. Just as you would make sure you have everything you need to present, discuss, tweak, and finalize a business deal in a physical data room, you'll want to make sure you're set up for success in your virtual space as well.

It's impossible to give step-by-step directions as every setup is a bit different but you can start by adding any files you need and organizing them as desired. These may include:

Proposals
Contracts
Client-specific documents
Legal documents
Next, add permissions and security features for files, keeping in mind that not every employee or team member of a customer requires access to sensitive data.

Finally, invite your customers to join the data room. Make sure your customer understands how to collaborate and communicate through the virtual space so they can enjoy the full benefits of working within one.
Step 3: Complete the business deal
Now's your time to shine! You may be surprised as to just how similar completing a business deal in a virtual data room is to completing one in person.

You may also find that your customers enjoy the process more. They can explore and review the terms of the deal on their time, feel free to discuss as a team without any outside pressure, and prepare and produce a counteroffer if needed.

Virtual data rooms make it easier for all parties to let their guard down a bit while still feeling like they have control.
Look Out for Potential Pitfalls
Not all virtual data rooms are created equal. Here are a few potential pitfalls to look out for when making the switch.

Poor security – Virtual data rooms are designed to be secure. But not all have the same level of security. When choosing a provider, take the time to explore the security features they offer, along with what they do on their end to keep your stored data safe. For example, Onehub secures data with bank-level encryption both in transit and at rest.
Minimal features – Your virtual data room should be an extension of your business, not an awkward outside tool. A great virtual data room provider will allow you to customize with logos and colors, brand emails and sign in pages, and use custom domains that make customers feel secure.
No free trial – If you're using a virtual data room for the first time, you may want to try a few out before committing. Free trials will allow you to get your feet wet without the commitment. You can try Onehub's free trial here.
Ready to Tackle a Virtual Business Deal?
Now that you understand the benefits, initial steps, and potential pitfalls to look out for, you're all set to conduct your next business deal in a virtual data room.

Whether it's out of convenience or necessity, having this ability in your professional wheelhouse is sure to serve both you and your customers.

---