5 Cloud Collaboration Technologies that are Driving Productivity
Posted On October 20, 2020
---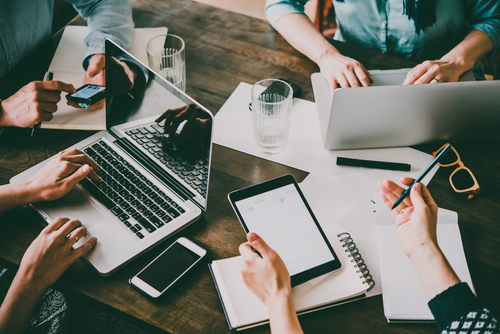 With so many employees now working remotely, the cloud has played a key part in ensuring that businesses are able to adapt to the 'new normal' of working from home. 
From incorporating Cloud PBX systems to facilitate call handling and providing call centre training online to using cloud enabled video conferencing to host meetings, cloud technologies have become critical to driving productivity. No surprise then that the majority of organizations plan to use cloud services for over half their infrastructure and apps, going forward. 
That collaboration is key to productivity has been illustrated in recent surveys. It's been shown to be the backbone of high performing companies. And cloud technologies needn't cost the earth, with a big variety of paid and free tools available for sharing and communication. 
Here are some cloud collaboration technologies that guarantee to improve your productivity:
1. Project Management Software
There are plenty of cloud-based project management tools available that allow teams to organize projects and work on them with colleagues. Some tools enable teams to work with whiteboards or lists, so that projects can be divided into different tasks. There's also often the option to set up to do lists and delegate and assign team members to complete certain pieces of work.
A good project management system should also give the option to comment and give feedback to others – in real time. And it's recommended to use project management software that integrates with all your third party systems. 
Since your project management software will play an integral role in ensuring teams can work remotely, it also pays to opt for a tool with an intuitive interface so it's easy for users to set up and use the software. This can help with onboarding if you find yourself in need of hiring remotely.  
Cloud based project management software can also be used for cloud storage – combining all the features of a management system with a secure place to save all project management information. There's usually the option to organize data into folders and keep them in a centralized place where users can access them at any time. That's as long as they have the right permissions and a good internet connection. 
A cloud based project management software can also help your business share files more securely than through e-mail, something essential when working with sensitive information.
Many project management tools can be used on a basic level for free. However, it may be advisable to upgrade to a premium service in order to unlock additional features. These commonly including the ability to add more users or use more in-depth organizational management features.
2.  Messaging Apps
Emails aren't suited for quick, back and forth conversations between employees. They require titles and lengthy paragraphs – and it can be confusing trying to keep up with endless threads in a packed inbox. 
Team messaging apps simplify business communications. 
A reliable, high quality messaging service can play a critical role when it comes to effective collaboration. You can use some apps for messaging as well as for voice and video conferencing – and screen and file sharing. It will pay to opt for a tool that's user friendly and accessible across all your platforms and devices, in order to boost internal and external communications. 
The benefits of messaging apps include:
Real-time communication
Bite-sized communication capabilities, saving time setting up and participating in long phone conferences
Task management features
Greater engagement – teams can share personal information as well as dry business messages 
Select one with end-to-end encryption to ensure optimum security. 
3. Collaborative Email Management Tools
While messaging apps are great for internal communication, many customers see emails as a primary method of communicating with a business. 
So when it comes to a customer service strategy, email remains one of the main drivers of customer retention and acquisition. Finding a way to prioritize messages and organize workflows helps customer service teams to cut down on the time required to reply to customer emails. It also helps teams to collaborate and organize workflows. 
Features of an email management system include the ability to create workgroups,assign to-dos, and integrate with a CRM in order to label emails and add internal notes.
As part of an effective email marketing strategy, it's also essential to improve email deliverability – so that your emails don't end up in spam. 
4. A VoIP Phone Service
An internet based phone service has become an essential part of a company's collaborative efforts. Enabling staff to communicate from wherever they are in the world and stay connected with each other on any device can help them anticipate problems before they escalate. 
Employees can keep in touch with customers while they're away from their desks – while teams can work together to find creative solutions without any barriers to collaboration. Call forwarding services come as standard with many VoIP packages, ensuring companies never miss an opportunity to connect with customers. 
Calls between employees are usually free. There's also no need to buy in different software or hardware because you can use your existing equipment to set up meetings – with or without video. And to aid customer engagement and give them a better service there's always the option to offer freephone numbers to them, too. 
5. Social Media Planning Platforms 
Social media planning platforms enable you to boost collaboration around your content on Facebook, Twitter, Instagram, and other social media platforms. This collaboration allows you to reach customers, clients, and readers with unified brand offerings.
You can also take advantage of analytics tools to help you understand which of your posts are working and which are not. 
Tools including Hootsuite are built around teamwork so that reports are customizable and ensure that everyone can see the data they need to focus on. They are also designed to integrate with many third party platforms so that all team members can work productively and efficiently together, and create a seamless saas seo marketing strategy or whatever else your team needs to work on. 
Bio: Sam O'Brien is the Director of Digital and Growth for EMEA at RingCentral, a Global VoIP Service, video conferencing and call centre software provider. Sam has a passion for innovation and loves exploring ways to collaborate more with dispersed teams. He has written for websites such as SAP and Revenue River. Here is his LinkedIn.
---