The Best Alternatives to Local Servers for File Sharing
Posted On November 23, 2020
---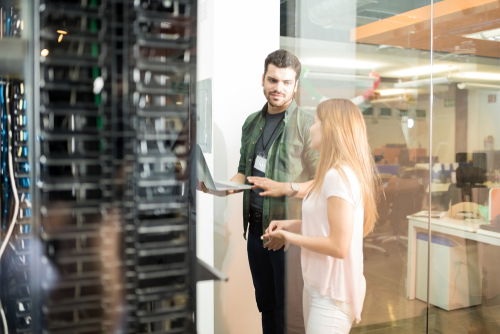 Sharing digital files is an integral part of business operations. A 2016 Hubspot study revealed the average business stores 162.9 terabytes of data. These businesses estimated their accumulated data would increase by over 50% within a year and a half. That data represents priceless information, but it's only useful if you can share it with other users quickly and securely. 
Local servers are the traditional method of file storage and sharing, but they have many disadvantages. Luckily, your options for file sharing are growing as steadily as your company's digital mountain of data. 
Pitfalls of local servers for storage and file sharing
Expensive hardware and ongoing maintenance
A dedicated server requires a significant up-front investment in hardware. For a small business, this can range from $1,000 to $5,000, and of course, the price point goes up for larger companies with more robust server requirements.
And that isn't just a one-time expense. Server hardware needs to be updated every three to five years to keep it running optimally. You'll need IT support to install new hardware and ongoing help for maintenance and troubleshooting. 
These hidden costs add up quickly, making on-premise servers an expensive option for data storage and file sharing.
Difficult to collaborate on projects
Your local server is great for file sharing if you're shooting over an email attachment to a colleague as an FYI, but things get complicated when a team needs to collaborate on a document. 
When sharing files using a dedicated server, each employee on the project will have their own version of the file. Your team can't work together in the same document to make real-time changes or leave feedback, so they're essentially working in isolation. 
Vulnerable to data loss and downtime
A new server's failure rate is 5%, but this statistic jumps up to 11% for a four-year-old server and continually increases as your server ages. Regular server backups are an essential best practice, but you may still lose any new data added between the last backup and the server crashing. Server failure also means significant downtime, which costs your company money.
Alternatives to local servers for file sharing
Cloud storage 
Cloud storage and file sharing via a hosting service is an easy, cost-effective option for businesses. You choose a provider that suits your company's needs and upload files to a secure cloud server. You can access your data or share files from any device anywhere in the world with an internet connection. 
High-level security
Cloud storage is casually referred to as "the cloud" now. That colloquial term conjures images of your data freely floating around with no security, but that isn't the case. Cloud service providers take data security seriously. 
For example, if you use Onehub for your file sharing, your data is protected by bank-level encryption and security policies. It's automatically backed up across multiple devices in multiple facilities, so if disaster strikes, you won't experience any data loss or downtime. 
Less expensive and easy to scale
With a traditional server, scaling up requires purchasing additional hardware, and scaling down leaves you with an expensive piece of equipment you don't need.
Because everything is virtual with the cloud, there's no expensive hardware to buy or maintain. The upfront costs are minimal, and you can effortlessly scale your storage needs up or down with just a few clicks of your mouse. Easy scalability ensures you only pay for the exact amount of storage you need.
Remote work friendly
The cloud is perfectly tailored to the needs of the ever-growing remote workforce. Cloud sharing files means that workers can access files from anywhere and can collaborate with colleagues in real-time. They can easily access or restore previous versions of a document, see who made which changes, and view who's currently working on the file.
Client portals
A client portal is a digital gateway that allows you to quickly and securely share files. They're most often used for external file sharing with a company's clients, though they're also great for internal file sharing and project collaboration. 
File sharing with multiple companies
Client portals have gained popularity because they allow you to share files among many different clients. While you can do this with traditional cloud storage, the user experience isn't as supportive of regularly sharing files with many audiences. 
Clients can use their portals from anywhere with an internet connection. This is ideal when you're working with multiple clients from all over the globe. All users need is internet access to log into their dedicated digital space where they can share files, send messages, or work on documents.
Project management tools
Client portals can double as project management and collaboration tools. Features such as tasks, messaging, and Microsoft online integration can be added to your portal to encourage convenient collaborations between you and your clients or colleagues. 
You can also see who is in the workspace and what files they've viewed or edited. This keeps everyone on the same page about who is working on a project at any given time and prevents accidental duplication of work.
It's a convenient way to consolidate your file sharing and project management needs into one easy-to-use workspace.
Long-term file-sharing needs 
Unlike virtual data rooms, which we'll cover next, client portals are designed to be a long-term file sharing solution. The collaborative features, user transparency, and customizable design create a digital work environment that's simple to navigate yet powerful enough to manage complex projects and multiple users.
Virtual data rooms
Virtual data rooms, or VDRs, are cloud-based databases that are extremely secure and offer a more controlled file sharing environment than traditional cloud storage or client portals. They're perfect for facilitating sensitive operations such as mergers and acquisitions, series funding, or legal proceedings. 
Highest level of security
VDRs have layered security protecting your data at every level, from the document to the user to the virtual room itself. Security details will vary by provider, but all VDRs are created to provide the utmost security to your company's most critical files.
Virtual data rooms also give administrators granular control over user access. Collaborators all stay anonymous, and they only see the information you want them to see. There are fail-safes to reduce the possibility of human error, so no one accidentally shares sensitive files with the wrong user.
Monitoring and digital rights management
Because VDRs were created to enable corporate financial deals involving sensitive data, administrators have many monitoring options and full control over digital rights management. You can review which devices are currently accessing the VDR and immediately revoke access to your confidential information if needed.
A VDR also provides audit trails, session timeouts, and secure authentication. It allows you to control what users can view, print, or download, and you can add watermarks to any printed documents to help protect your company's intellectual property. 
User-friendly branded workspace
VDRs have a user-friendly interface that makes sharing important information simple. They're easy to navigate, so people can quickly access and share data without needing intensive training. 
Another benefit of a virtual data room is customizable branding. You can create a custom domain and easily add your company's colors and logo. A branded workspace gives collaborators a seamless user experience when logging in to the VDR from your site. 
Network Attached Storage (NAS) Device
If you're not convinced that cloud sharing options are right for your business, you can opt for a network attached storage (NAS) device. Think of a NAS device as a mini local server. It's a small piece of hardware (about the size of a toaster) with high storage capacity that connects to your local area network. 
No third-party access
Despite extensive security measures, not everyone is comfortable with cloud storage provided by a hosting service. Since NAS doesn't store your data in the cloud, you don't have to be concerned about any third-party data breaches or downtime. 
Small size with large storage capacity
NAS devices may be small, but they have serious data storage capacity. Since they're much smaller than servers, which can take up a whole closet or room in your building, it's easy to store them almost anywhere. 
Easy to scale
Scaling up your NAS is as easy as adding another hard drive to an open bay in the device. It's a simple process that requires a screwdriver, a handful of minutes, and very little technical know-how. Whether your company has just a few terabytes of data or a few hundred terabytes, NAS can be scaled to fit your storage needs.
Sign up for Onehub's free trial to find out if cloud storage is the right file-sharing solution for your business.
---