Your Guide to Collaboration That Empowers Your Team
---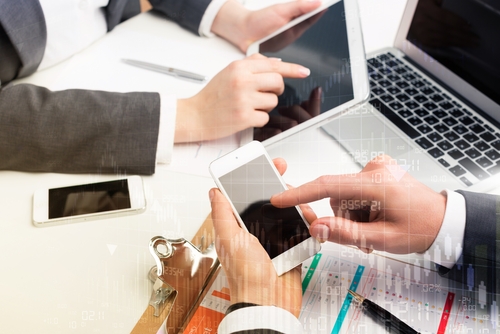 Collaboration is an essential tool for an organization's success. It's also one of the most difficult to master. Many company executives have gone to great lengths to foster workplace collaboration, from open-plan offices to extravagant team-building retreats. 
Judging by the responses to a recent survey, these efforts haven't been successful. Nearly 90% of employees blame workplace failures on a lack of collaboration or ineffective communication.
Designing office spaces to enhance teamwork and encouraging employees to meet in person regularly have long been the go-to tactics for fostering a collaborative work environment. As the general workforce becomes more distributed and focused on remote technology, companies face even more challenges.
Whether your team works together in person or on separate continents, the tips below will empower your employees' collaborative efforts.
Improve communication
Collaboration centers around communication, so it's the perfect place to start building a team that works together well.
Make communication a standard practice in the office. Have regular staff meetings to remind everyone of the company's goals and keep them informed about the progress and remaining tasks on any big projects. This will also give employees ample opportunities to ask questions and present their ideas within a group setting. When this becomes the modus operandi, your team will begin to feel more comfortable working alongside their colleagues (literally or remotely).
Online collaboration tools can help you establish this new communication-focused routine. With Onehub, you can create a digital Workspace dedicated to your team's collaborative efforts. All relevant files are stored in the Workspace for easy access, and comments and messaging allow colleagues to reach out at any time with questions or ideas.
By providing specific collaboration tools and making it clear to your team that communication is a priority, you're establishing a positive environment where collaboration can thrive.
Share resources
The adage "Knowledge is power" is especially fitting in the workplace. It's no coincidence that companies store hundreds of terabytes of data. All that information is a valuable resource, and employees need to access it regularly to do their jobs well.
In addition to accessing information resources, your employees also need help in the form of online collaboration tools. These types of digital resources aren't only for remote teams. The Millennial generation will soon make up the majority of the workforce, and they're much more productive when communicating and collaborating through technology. They are radically changing the workplace dynamic, and digital team tools are becoming a basic necessity for good collaboration.
When evaluating online collaboration tools to offer your team, think safety first. Secure file storage and sharing are of the utmost importance. Earlier, we mentioned that data is a valuable resource for your team. Unfortunately, it is also valuable to hackers. That means your business files need to be protected by high-level security protocols such as encryption, two-factor authentication, and granular access permissions.
Once you've ensured the cloud storage and file-sharing provider has your data security covered, the next feature to look at is functionality. Is the software easy to use? Does it provide ways for your team to communicate within the platform? Does it offer a robust selection of document collaboration tools?
Collaborative team tools such as Onehub's file versioning and syncing allow employees to work together more efficiently. Nothing brings document collaboration to a halt faster than someone working from the wrong version of a file or in a file that isn't synced. It's a trainwreck, and workers lose precious time and momentum as they try to fix it. You can make sure no one on your team has to suffer through that fate again by providing them with the online collaboration tools they need.
Define roles
Unclear expectations can derail a project quickly (and may also lead to employee burnout). You can encourage better collaboration by defining each member's role. If multiple departments are working together, be sure to identify each team's overall purpose within the project.
If certain roles require access to sensitive business files, Onehub can help you create digital roles within the platform. With granular permission settings, you can store all project files in one convenient location while only allowing certain users to access confidential information. Our "view as" feature allows you to preview the Workspace in different roles to double check that everyone's been assigned the correct level of access.
Employees also need clear guidance on what tasks they need to complete. For complex projects, especially ones with multiple deadlines, it's helpful to have a "task" tool in your chosen business software that allows you to assign tasks to each team member.
In Onehub's interface, admins can view all assigned tasks or sort them by employee to check overall or individual progress. Each employee can see what tasks they have assigned to them, so they always know exactly what's expected of them. This feature also allows managers to monitor everyone's workload and prevent anyone from being buried under a mountain of work.
Whether you choose to go digital or analog to assign project roles and tasks, this level of clarity is essential for good workplace collaboration.
Encourage brainstorming
Create a physical or digital workspace where employees can connect to brainstorm. There should be a strict "no bad ideas" policy to encourage everyone to share their thoughts, even if they aren't fully formed yet. This establishes a creative, collaborative atmosphere where all employees have equal opportunities to be heard without judgment. This is a fantastic way to come up with fresh ideas to move your business forward, and it doubles as a team-building exercise that will enhance future collaborations.
To ensure no brilliant ideas get overlooked, create and share a file with the team that recaps each brainstorming session. Team members can easily access the document whenever they need some inspiration. You never know — there may be some gems in there that will inspire a future project!
Onehub can set your team up for successful collaboration. Sign up today for a free 14-day trial to see all the ways we can help.
---