Why the Onehub Quick Start Guide is a great pick
Posted On September 3, 2015
---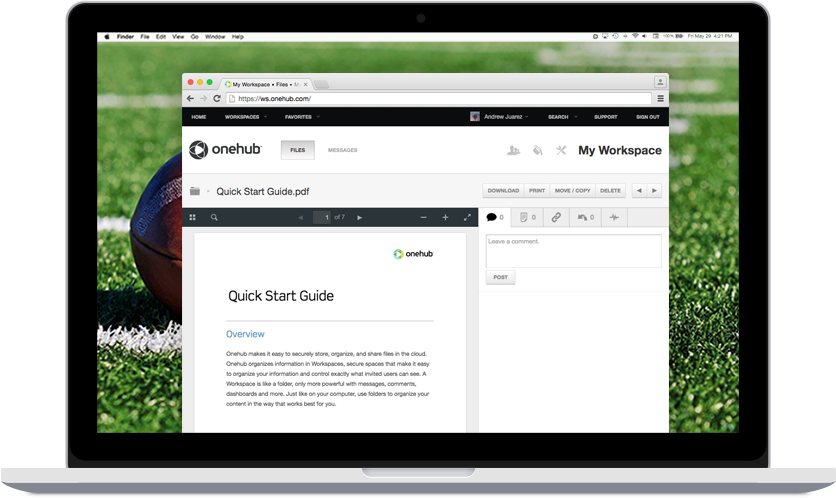 Friday is Fantasy Football draft day at Onehub and just about everyone in the office is prepping their picks (and their trash talk). Somehow, I've gotten through my adulthood without playing fantasy sports, so it was with some trepidation that I signed up for the Onehub league.
Being a noob, I tried my first mock draft yesterday and the experience was almost overwhelming. What are all these stats? Where did all the running backs go? And how can I be expected to make a big pick in under 30 seconds? Aaaaaagghhhhh!
Thankfully, my co-worker, Matt, was there to walk me through it (and berate some of my selections). But what I really could have used is a simple, Quick Start Guide like the kind we offer new Onehub users.
Our enterprise file storage and sharing service is not nearly as much of a pressure cooker as a fantasy league and we strive to create a beautifully designed experience. But first time users will undoubtedly have a few questions.
This is why we created the Onehub Quick Start Guide. It's a downloadable PDF that's just seven pages long (most of it pictures!) walking you through the basics of getting up and running on Onehub.
In addition to the Quick Start Guide, we also offer a free video tutorial series of screencasts that illustrate the basics of our service.
Now, if someone could just provide instructions on guaranteeing me Marshawn Lynch in the first round, that would make my work life for the next five months so much more enjoyable.
---