Being thankful is cool
Posted On November 23, 2015
---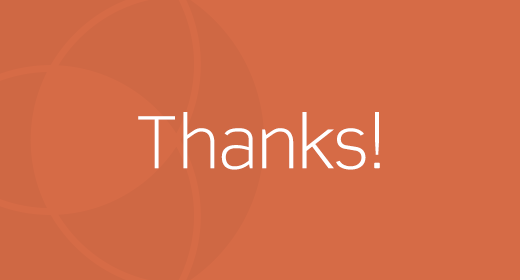 We had a healthy debate at our Monday meeting over the merits of Cool Whip as a pumpkin pie topping. Obviously fresh whipped cream is the best, but the whole discussion was fun and made me grateful for working with a fantastic group of people.
It also got me thinking about a piece in The New York Times that came out over the weekend about actively practicing gratitude. In it, Arthur C. Brooks points out that one path towards a happier life is actively expressing gratitude for the mundane, everyday things we take for granted:
Finally, be grateful for useless things. It is relatively easy to be thankful for the most important and obvious parts of life — a happy marriage, healthy kids or living in America. But truly happy people find ways to give thanks for the little, insignificant trifles.
It's easy to overlook the things that just work, day in and day out. So, with Brooks' advice in mind, there are a lot of smaller things we are grateful for:
Amazon Web Services chugs away, every day, without fail

We are lucky to be

headquartered in Seattle

(Bonus: our office overlooks the scenic Puget Sound)

There's a

CrossFit gym

right across the street (so we can work off that pie)
But most of all, we are grateful and thankful for you, our customers. We provide file storage and sharing to more than 1.2 million business users, and we appreciate your business. We are thankful for the past eight years of growth and look forward to expressing gratitude for many more.
Now pass the Cool Whip.
---
Trending Now