How to Narrow Down a List of Virtual Data Room Providers
Posted On August 17, 2020
---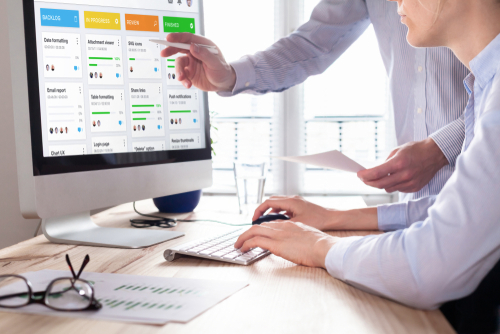 A virtual data room, or VDR, is a secure virtual storage space typically used by companies to store valuable documents, confidential information, and data pertaining to their business processes, employees, and/or clients. VDRs help companies increase their reach and productivity without compromising professionalism or security.
However, not all virtual data room software is created equal. Keep reading to learn how to spot an inadequate VDR amongst the never ending list of virtual data room providers (and why it's crucial that you do).
Potential VDR Pitfalls 
Finding a VDR isn't difficult. But finding a service that meets your needs without sacrificing security or professionalism takes time. Here are three major signs of an inadequate VDR provider.
1. Poor quality
Have you ever been disappointed by an off-brand version of a product? The same can happen with virtual data room providers. If you notice a lower price but also a less than professional design, limited features, or a long list of online complaints, the monetary savings aren't likely worth the risk.
At the same time, opting for a VDR provider simply because they're the most expensive won't guarantee the best experience either. When searching for the best VDR, focus on quality before any other criteria. 
Is the provider's website professional or rather lackluster and filled with spelling errors? Do past and current clients praise their services or complain of shortcomings? Take a tour of the provider's services and listen to your gut. At the end of the day, a poor quality VDR will never give you (or your clients) a professional and positive experience.
2. Poor security
With the average cost of a data breach in the U.S. reaching $8.19 million in 2019, online security should be a main focus of all virtual data room providers. But you'll likely find that this isn't the case.
Signs that a VDR lacks security include:
Minimal security features
A history of data breaches
Hard-to-find contact information
A VDR provider that prioritizes the security of your stored data and documents will have an impressive number of security features available. Look for automatic encryption (for data both at rest and in transit), passwords and two-factor authentication, the ability for document owners to revoke viewing privileges as required, and activity audits.
Even if you feel the data you store isn't sensitive in nature, understand that a leak of any sort could end in serious litigation brought on by clients or a severe loss of revenue after damage to your brand.
When browsing virtual data room providers, explore their websites, looking for pages dedicated to their commitment to providing a secure storage solution. And to cancel out any doubt, speak to them directly to learn about the precautions they take and how they handle security threats.
3. Limited options
A VDR is designed to make your work processes simpler, whether it's a merger and acquisition or just sharing project updates with clients. So when you come across a provider that seems to have more restrictions than options, it can be a red flag that their limited approach will leave you feeling frustrated and constricted.
When searching for a VDR, look for personalization options, including the ability to add logos, brand colors, and custom messages to portals. Look out for red flags, like being forced to use the provider's organizational schemes instead of being able to sort and arrange folders and documents based on your company's protocols. 
Browse past updates and announcements on a contender's website as well. Are they continuously adding new features and listening to their clients for suggestions or do they seem stuck in a rut that leaves their services feeling a bit cold and outdated?
A VDR that evolves alongside your business will always be a better option.
How to Know You've Found Your Perfect VDR Match
It certainly takes time to find the perfect VDR service provider. And while there's no singular magical sign showing you when you've found the perfect match, there are certain features and services that tend to be found in superior providers.
Here's a list, though not exhaustive, that will help you narrow down your search and take a step closer to finding the perfect VDR match for your business.
Data rooms should be secure, anonymous, and easy to set up.
Uploading shouldn't be overwhelming. Look for drag-and-drop features that can have your documents uploaded in a matter of minutes.
Activity trackers that keep you up to date on every file interaction should be included.
Don't accept basic preview options. Make sure your VDR allows employees and clients to preview a variety of file types without downloading additional software or apps.
Bank-level encryption should be a basic feature for data in transit and at rest, combined with invitation-only access to data.
Communication within a VDR should be simple and seamless. Look for features that allow viewers and editors to post messages within each workspace.
Think all of these features can't be found in one VDR provider? Onehub offers all of these features and more, including the ability to assign multiple levels of permissions to documents and customization features that make your brand the star of the show. With no long-term contract lockups to worry about, scheduling a free trial of Onehub is the best way to see a winning virtual data room solution in action.
So, Does It Matter Which VDR You Choose?
Put simply, yes — it absolutely matters which virtual data room you use. There are plenty of virtual data room providers out there, some much stronger than others. But a little research is all it takes to weed out the inadequate providers and find one that matches your needs and budget without compromising your brand or online security.
To see Onehub's VDR setup and features up close, schedule a free demo today.
---