How to Make Your Onboarding Process Easier With Onehub
---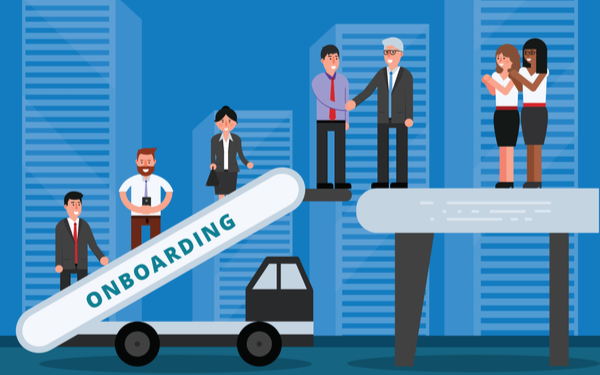 What is onboarding?
Onboarding is the in-depth process of integrating new employees into your organization. New hires go through an initial orientation phase that includes completing HR paperwork, taking a tour of the office, and meeting the rest of the team. The next step is about detailing your company's policies and culture, aligning performance expectations, and providing any training or support needed for the employee to succeed.
Onboarding is a fundamental process that sets up new hires for a long-term future at your company. Unfortunately, most businesses are terrible at it. (A staggering 88% of employees said it, not us!)
Why does good onboarding matter?
It lowers turnover rates.
On average, the internal and external expenses associated with a new hire total $4,129. It's a significant investment, and it needs to be nurtured in order to be profitable. The goal is to have employees that positively contribute to the company's bottom line for many years.
Considering that 29% of new hires quit within the first three months, it's clear there's a high risk of losing that investment. One of the best ways to avoid falling victim to that statistic is to create an onboarding system that makes employees feel welcome and supported.
It keeps your business compliant.
There's no shortage of paperwork associated with hiring someone. You have to ensure every employee has filled out their tax documents and insurance forms, and you have to record their personal information, salary, start date, and a dozen other details.
Employee records are subject to audits from local authorities and state or federal agencies, so you must complete these documents for every single employee. If your onboarding process is disorganized, you could easily overlook an important form and not realize it until it's too late.
It positions new hires for success.
A solid onboarding process should last at least a month, but a CareerBuilder survey reports that 25% of corporate onboarding lasts a day or less. Few businesses are so simple that they can be properly covered in a handful of hours.
Rushing through this introduction to a company's policies and culture leaves new employees overwhelmed and struggling to process this information overload. When a new hire is left floundering, they can't contribute the knowledge and skills they were hired for.
Onehub makes your onboarding faster, easier, and more secure.
Digital Workspaces keep your business and onboarding organized.
One reason managers rush through onboarding is because it's also overwhelming for them. It's a detailed process, and it's not easy to keep track of all the files and information you need to cover. To save the process from devolving into total confusion, you can create a digital Workspace with Onehub. It will serve as the command center for your onboarding system.
You can create folders for every aspect of the process, from HR paperwork to notes about a new hire's progress. You have complete control over what folders and files other users can see, so you can safely store public and private information within the same Workspace. Having everything organized and in one easy-to-access area will keep you clear-headed and able to focus on creating a positive experience for your new employee.
The user-friendly interface is simple to learn.
No matter how many years of experience an employee has, they will still need training to understand your company's specific methods, policies, and software. As they're trying to absorb this mountain of new information, they'll be happy to see that Onehub's interface is easy to understand even at first glance.
Elie Azard, the managing director of White Wolf Capital, can vouch for our intuitive platform. "Look at Onehub and you see an elegant, easy to use, and highly secure data management system," says Azar. "It's simple, it does the job, and it's cost effective."
Onehub's DocuSign integration speeds up onboarding paperwork.
Gone are the days of handing a new employee a pen and a stack of forms a mile high. Instead, store blank copies of these first-day documents in a folder in your onboarding Workspace. This makes it easy to confirm all documentation is accounted for, and you can send the files directly to the new employee from your Workspace.
With our DocuSign integration, employees can quickly finalize their paperwork with an e-signature. They never have to print a form or lift a pen during the entire documentation process. First days are intense, and it's a good idea to add convenience wherever you can during onboarding. Allowing new employees the ease of typing in their information and signing documents digitally is a small but very welcome blessing.
Digitizing the new-hire paperwork also benefits your human resources department. Everything is typed and easy to read, so no one wastes time interpreting the hieroglyphics of someone's messy handwriting.
Collaborative tools allow new hires to integrate with the team faster.
Being accepted by colleagues is one aspect of onboarding that's essential to a new employee's happiness but is mostly out of your control. While you can't force good working relationships, you can give new employees tools to make it easier to join in. The fastest way for a new employee to become part of the team is to show their colleagues that they can make valuable contributions and pull their weight from the start.
Businesses often choose to organize their Workspaces by client or by product. This means that all files relevant to a client or product live within an organized, dedicated Workspace, making it simple for new employees to get up to speed. Once they've familiarized themselves with a project, Onehub's collaborative features such as file syncing, tasks, and comments allow them to jump in and begin working alongside their colleagues.
Bank-level security policies protect your documents.
Onboarding paperwork is filled with the personal details of your employees and confidential information about your business. A security breach or server crash will quickly derail your onboarding process and every other aspect of your business.
Onehub protects your sensitive business files with bank-level encryption. Every communication sent from our platform goes through a secure connection, and we have 24/7 security monitoring to protect your company from hackers. Our physical security policies, such as storing your data across multiple devices at multiple facilities, ensure you never lose files due to server issues.
Create an easy, organized onboarding process with Onehub that will help you retain top talent. Sign up today for our free 14-day trial.
---