How to Maintain a Human Connection With Clients While Social Distancing.
---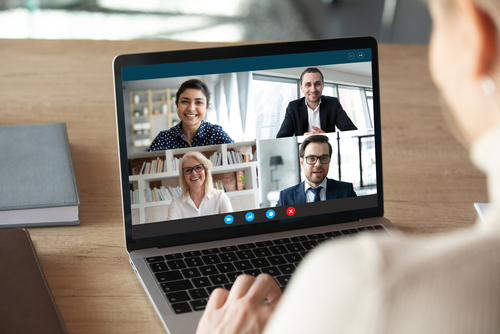 The coronavirus pandemic has changed the way many companies interact with their clients and partners. Whether you've moved from a brick-and-mortar store to online sales or switched to zoom meetings with clients instead of an in-person visit, you've added some physical distance in your business relationships.
It can be difficult to keep up the same level of customer care that your business once provided. Though all reasonable clients and customers will understand the need for this change, it still has a powerful subconscious impact on their view of your company. It's easy for them to feel like they're out of the loop on project updates or that their issues are not a top priority anymore.
In an interview for the U.S. Chamber of Commerce, consumer psychologist Kit Yarrow explains that the pandemic has created "an opportunity to have [a] longer term, deeper relationship with consumers."
To build this relationship, you have to find ways to add a human touch to your socially distanced client experiences.
Be more empathetic.
It's not accurate to say that there's a silver lining to this pandemic, but this collective crisis does mean it's easier to empathize with others. Rather than a personal crisis that may be difficult to relate to, there's a universal understanding of the trials and stresses COVID-19 has created.
It's likely some of your clients are dealing with sick family members, an unemployed spouse, or an "office" that's surrounded by barking dogs and screaming children. Keep this in mind if you have a client who's late sending an important file or hasn't responded to your emails promptly.
A good perspective to focus on right now is to assume positive intent. Chances are, your client would very much like to move their project along but is having a hard time keeping up with things right now. Assuming positive intent allows you to respond with empathy instead of annoyance.
Increase communication, and be mindful of your words
One of the best ways to maintain a strong connection with your clients is to increase your communication. Give them more frequent updates on projects, bids, or fundraisers. This will assure them that they haven't been forgotten and that your team is still working hard for them.
When emailing clients or customers, keep in mind that it's difficult to convey tone through the written word. Take a minute to reread your message, looking for language that could unintentionally come across as harsh. Emotions naturally run high during crises like a pandemic, so approach interactions with more care than usual.
If your clients are comfortable using video calls, try to schedule a weekly call to check in on them and cover any important updates. Seeing each other creates a level of emotional connection that an email or traditional call can't replicate. If video calls aren't an option, a phone call is the next best option.
Emails are great for conveying information, but they generally feel impersonal. You don't have to replace all of your emails with video or phone calls, but reaching out this way about once a week is a great way to remind your clients or customers that they still matter.
If you provide a service that requires a cooperative effort from your clients, it's more important than ever to provide them with tools to collaborate efficiently.
On a normal day, your clients probably had a hundred things vying for their attention. The pandemic has added the additional stresses of adapting to remote work, feeling isolated from friends and colleagues, and concerns about the health of their loved ones. Your business has to make it as simple as possible for them to provide the files or information your team needs. If it's at all difficult, that task is going to get pushed aside.
A great digital Workspace or Client Portal will provide the tools that make it easy for clients to work with you. MossWarner uses Onehub's Workspaces. Vice President Marcy Kalina says, "It delights our clients to have their own area and provides special value to them." MossWarner creates customized Workspaces to accommodate the unique needs of hundreds of clients.
The value of this type of personalized digital space has only increased since the pandemic. It's a clear sign that your company is invested in your clients and takes their need for easy collaboration and secure file sharing seriously. With an easy-to-use interface and features such as tasks, comments, file syncing, and granular user permissions, your clients will stay engaged throughout every project.
Be adaptable to client needs and lenient with policies.
Now is not the time to strictly enforce company policies that make life harder for your clients. Consider waiving late fees and extending deadlines. You want your clients to feel like you have their backs right now. Penalizing them for minor infractions sends the opposite message.
If they're having trouble operating within your typical business policies, try to identify an alternative solution. For example, if your client can't seem to get your team the assets needed for a website redesign, see if they'd agree to give your company temporary access to their file storage. Your team will get what they need to keep the project on schedule, and your client will undoubtedly be grateful that you've taken this task off their plate.
This doesn't mean your company should allow clients a free pass to ignore invoices or behave badly. Just be open to finding outside-the-box solutions for your clients and extend a little grace and understanding whenever possible.
It pays to be nice.
Your clients are wearily navigating the continued stresses caused by COVID-19. You can deepen business relationships now by maintaining a human touch. Empathy, communication, and (ironically) technology are the perfect tools to make your clients' lives easier. They'll remember these small acts of kindness and consideration, and you'll be repaid tenfold in customer loyalty and referrals.
Give your clients and your team the gift of Onehub's customizable Workspaces. Sign up today for a free 14-day trial.
---