7 Reasons Your Clients Will Love Onehub
---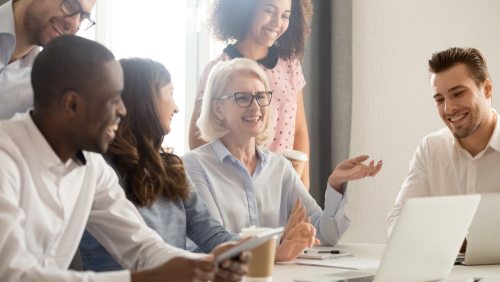 Meeting clients' needs is the number one goal of successful businesses. For many companies, meeting those needs involves a significant amount of client interaction and collaboration. The processes and software you use to collect information from clients are just as important as the final product or service you provide them. Onehub was created with these needs in mind, and our platform consistently wows clients with its user-friendly interface, top-notch security, and robust functionality.
Onehub makes your clients' lives easier
1. Clients know their confidential business files are protected.
Data security is understandably a top concern for your clients. Onehub can help you ease their worries and win their trust by ensuring confidential information stays secure. Our security protocols mirror the fastidious measures used by banks, such as 256-bit encryption and data stored across multiple facilities and devices.
In addition to bank-level security features, Onehub provides users with an arsenal of privacy and security tools such as granular permission settings, secure link sharing, encrypted communications, and Custom Agreements clients must accept before accessing content.
To provide an even higher security level for your most sensitive business interactions, you can create a Virtual Data Room (VDR) for your clients. Within the VDR, you have the same security features as a traditional Workspace but with additional tools such as document watermarking, user anonymity, and more extensive audit trails. These extra features make clients feel confident that their confidential information is always safe.
What users are saying
"Look at Onehub, and you see an elegant, easy to use, and highly secure data management system." Elie Azar, Managing Director, White Wolf Capital
"Defining precise permissions puts my customers at ease,and limiting content interaction allows me to better control access to sensitive data." Matthew Holland, Ray White Business Sales
2. Our intuitive interface is easy for clients to use from day one.
If you've ever had to train a client to use complex business software, you know what an arduous task it is. It requires the patience of a saint and many deep, calming breaths. It's also a trying experience for your client. They just want to securely share files with you or approve new changes to a document. They don't want to endure a training session for overly complicated software. You can save yourself, your team, and your clients from this fate by choosing Onehub. Our technology solution has everything your clients need in a streamlined, easy-to-use interface.
Many businesses have trouble convincing clients to work within their designated software instead of sharing files and information via email (which is not secure and makes finding attachments difficult). Clients only do this when your chosen platform is intimidating, difficult to use, or lacks necessary features. Onehub is simple to navigate and has everything your clients need in one convenient location, so you don't have to worry about them operating outside of our secure platform.
What users are saying
"With the previous program, we constantly got calls about login and account setup problems and how to use the file sharing. Onehub applies the same kind of file and folder navigation that people use every day, so clients catch on quickly without any help." J. Bruce Ricciuti, President, Birch REA
"Ease of setup and use were essential. The same functionality that made it easy for us to adopt [Onehub] has made it easy to onboard additional users both inside and outside our organization." Abram B., Director of IT
3. Clients can share files quickly and securely.
Email is often clients' go-to method for sharing business files because it's familiar; however, emailing files can create several problems. Email is inherently insecure, so it's simple for hackers to intercept business files that may contain sensitive information. Email also has frustrating file size limits, makes it difficult to find attachments later, and doesn't provide confirmation that the file was received.
Some businesses avoid email file sharing by using file transfer protocol (FTP). As the name suggests, it's a much more technical option. Many clients find it confusing or overwhelming and will often default back to emailing files. FTP is more secure than email, but it's still vulnerable to attacks and can be slow to transfer files.
Once your clients understand the risks involved with emailing files, they'll want a secure option that's simple for them to use. Onehub's platform makes secure file sharing fast, easy, and secure. The interface is user-friendly, and clients can transfer files directly or with secure links. Our stringent security protocols protect every file sent via Onehub, so your customers can confidently share their business files.
What users are saying
"Everyone is saved from the painful process of sending files by email or FTP … To be competitive, we have to provide a project management solution that lets clients collaborate on projects, saves them time, and is easy to use while maintaining the security of their information. Onehub is the solution that offers this and more." Cindy Hearn, Sales & Marketing Specialist, PRG
4. Custom-branding and white-labeling options give clients confidence in your business.
Onehub users can create unlimited custom-branded or white-labeled Workspaces. These are essentially digital office spaces that cater to each of your clients. Creating this dedicated space for clients sends a clear message that you value their business. A custom-branded Workspace provides them with a secure and easy-to-access central location where they can find all the files they need, approve project updates, complete or assign tasks, and collaborate directly with your team.
Clients appreciate having a polished Workspace that's organized and gives them access to all the tools they need. It makes your business look extremely professional, capable, and conscientious, all of which boosts clients' confidence in you and your team.
What users are saying
"I love how quickly we can set up custom client Workspaces. It delights our clients to have their own area and provides special value to them." Marcy Kalina, Vice President, MossWarner
"One of the most significant features that OneHub offers is their custom white labeling. This feature allows you to add your own company's logo on all of the web addresses that your users visit. Your users (vendors, customers, contractors) don't feel like they are visiting a third-party vendor, which is a plus in my book." Randy P., Senior Project Manager
"We use the site to share content with clients, and [white labeling] makes us seem polished and bigger than we are to have 'our own' file-sharing site." Lee T., Client Relationship Manager
5. Custom Agreements and DocuSign make it easy for clients to sign NDAs and other important documents.
Printing an NDA, signing it, scanning it, and emailing it back to your contact is a frustrating process. Onehub simplifies non-disclosure agreements by providing Custom Agreements and DocuSign integration.
You can choose to customize the Agreement tool to reflect the legal requirements you want clients to abide by. Before entering the Workspace, Client Portal, or Virtual Data Room, clients can review the document and accept the terms with one click.
Our DocuSign integration is similarly easy, with clients accessing files from within the Workspace and typing their e-signature to acknowledge receipt of the document or acceptance of the terms. Clients value these two features because they dramatically simplify what used to be a lengthy and tedious process.
What users are saying
"Getting sales leads to sign a non-disclosure agreement used to be complicated, stressful, and time consuming. After discovering Onehub's Custom Agreements feature, BankTEL was able to unify and transform the entire process into a more automated and auditable one-click action." BankTEL case study, details provided by Bonnie Baker, Director of IT
6. Microsoft 365 and Google Drive integrations make it more convenient to access files.
It may not seem like switching back and forth from your browser to a downloaded file multiple times a day is a huge deal, but it has a surprisingly negative impact on your efficiency. Research has shown that these short breaks in our focus collectively reduce our productivity and increase fatigue.
Our Microsoft 365 and Google Drive integrations combat this issue by allowing users to view or edit documents without downloading them. New documents can also be created directly within the Workspace. Clients appreciate this optimization that enables them to do everything in one central location. It saves them time and makes their tasks less stressful.
What users are saying
"I love the ability to share files securely on a temporary basis with or without a password, the activity log, and the ability to integrate and edit documents in either Microsoft 365 or Google Drive. [This] means I don't have to download files any longer, increasing my productivity." Brenda B., CEO and Certified ProAdvisor
7. Onehub's app gives clients access anytime, anywhere.
Sometimes work needs to happen away from the office. We've all experienced a moment when we're out and about and suddenly have a "this can't wait" idea or question. With the app always handy, your clients never have to worry about losing their stroke of creative brilliance or forgetting to clarify an important contract detail. They have convenient 24/7 access to the Onehub platform from their phones or iPads. The app is available for both Android and iOS users.
What users are saying
"The easy accessibility for my clients on both their PC and the phone app is a pro." Mike N., Owner, Accounting Firm
"I love the mobile app as well, which is simple with no additional apps to install to use it whether for iPhone or Android." Brenda B., CEO and Certified ProAdvisor
Onehub is a user-friendly and cost-effective solution that will meet all of your clients' file-sharing and collaboration needs. Try us out for free for 14 days to see how much your clients will love Onehub!
---