Client Portals: The Magic Tool for Better Customer Engagement
---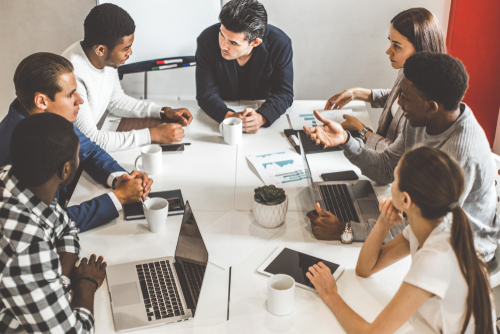 Why is customer engagement so important?
For many industries, providing clients with the best final product or service requires them to work collaboratively with your team. Fully engaged clients bring in 23% more revenue than their less involved counterparts. They're also more likely to be satisfied with your services because they had an active role in shaping them.
It's an ironic truth that clients sometimes seek out services and then derail their own projects by not fully participating in the process. They will seemingly drop off the map, not responding to emails or calls, consistently missing deadlines, or not approving project milestones. Often, the problem isn't that they don't want to participate; it's that they're busy, distracted, or overwhelmed. A customer engagement portal allows you to seamlessly integrate your collaboration process into your clients' daily lives.
Onehub client portals improve customer engagement and collaboration
If your typical client collaboration process involves a jumble of phone calls, emailed files, random Post-it notes, or complicated software, we're here to show you a better way.
The key to profitable client engagement is organization and convenience. Onehub client portals are a straightforward and cost-effective way to provide this.
A client portal is a secure login area on your company's website. Users enter their credentials to log in and access a digital Workspace that's custom branded and tailored to their unique needs. The Workspace provides cloud storage for business files, enables easy and secure file sharing, and offers collaboration tools such as automatic syncing, comments, and tasks.
If you've tried a technology-based approach before and found that customers worked around the platform rather than in it, your software was likely difficult to navigate and inconvenient to use. When you provide a simple user interface such as Onehub's, clients are more than happy to reap the many benefits a portal offers.
How portals benefit your clients
Client portals keep business files secure
Without a doubt, convincing clients to stop emailing files is one of the biggest hurdles to securing and streamlining your client collaboration process. Emailing files is second nature for many people, but it's an inherently insecure file-sharing method. It also makes it extremely difficult to search for files later.
To make sure clients switch over to securely sharing files, start by letting them know the dangers of emailing files. They may not realize that hackers can easily steal their emailed business files, or that once sent, a recipient can use and share the file however they like. Confidential files such as financial documents or intellectual property are a gold mine for hackers, and they won't hesitate to steal poorly secured files.
Onehub's secure client portal protects that information by requiring credentials to access the Workspace. Files stored in or shared from the Workspace are protected by bank-level encryption, and SSL protocols ensure that every communication is sent over a secure connection. Features such as role-based permissions, audit trails, session timeouts, and two-factor authentication mean your client's data is fully protected.
Once clients see that sending a file through the Onehub platform is just as simple as emailing it (arguably even easier) and that it protects their confidential information, they are happy to make the switch.
A client portal allows customers to self-service
For easy-to-answer questions or general information, clients want the option to help themselves. This is great news for your team because it means fewer phone calls and emails to respond to and more time to focus on delivering a great product or service.
You can custom-brand your client portal and Workspace to look like an extension of your website and not a third-party feature. Within the Workspace, you have total control over what clients can see and do. Project files, invoices, FAQs, and tasks are a great foundation to start building out your client-specific Workspaces.
Access to necessary files and information empowers clients to answer some of their own questions. The more convenient the collaboration process is for clients, the more they will engage and recognize the value your company offers.
Client portals improve communication and productivity
A client portal encourages customer engagement with your team. Clients can access this dedicated space at any time and from any device, making it extremely convenient for busy schedules.
Clients can check in to see if there are any pending tasks they need to complete, leave comments with questions about new updates on a file, or approve a mockup. They can also send messages when they need more in-depth information from the team.
To increase productivity even more, clients can preview files without leaving the Workspace. They can also create or edit files using our helpful integrations with Microsoft Office Online and Google Drive.
These details and tools are easy to see at a glance and provide clarity at every stage of a project. When your client collaboration process is perfectly streamlined, customers don't have to force themselves to stay engaged. There's no frustrating or inconvenient software to muddle through or an unorganized mass of emails to excavate; the client portal simply becomes a seamless part of their routine.
Client portals promote brand loyalty
When your clients log into a white label client portal and access the Workspace, they see a professionally designed platform branded with your company's logo. Everything is organized and easy to use without any training. That is an excellent impression to make. Clients immediately know that they've hired a competent, professional company to meet their needs. It inspires trust, strengthens business relationships, and makes clients want to hire you again.
Keep your customers happy and your business healthy with a Onehub client portal. Sign up today for a free 14-day trial.
---