Regular Software Updates Keep Your Business Secure and Productive
---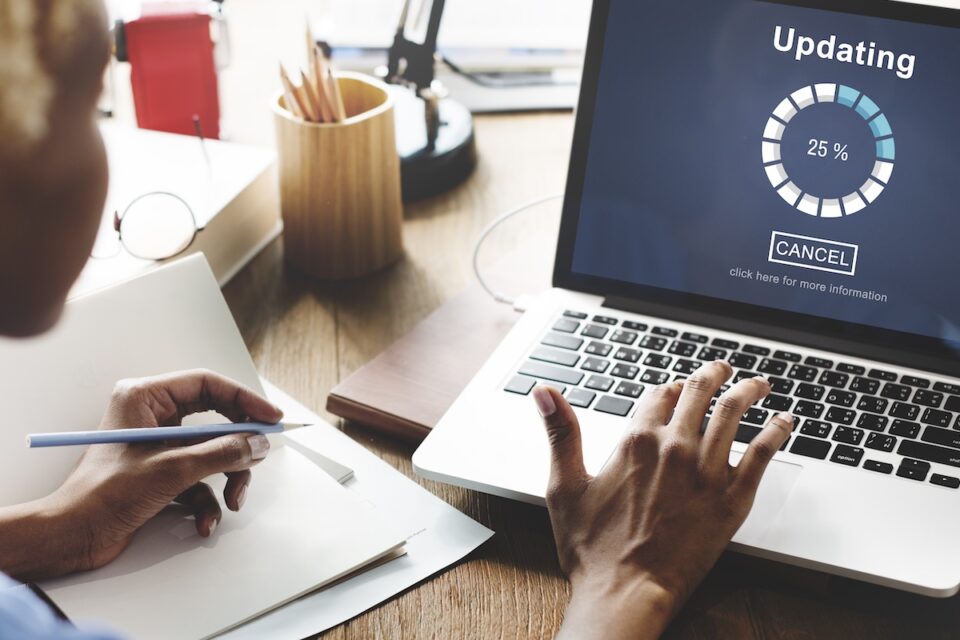 Why do companies issue software updates?
To improve security
A known vulnerability is a glitch or weakness in software or operating systems that hackers can exploit. When a software company identifies a vulnerability and finds a solution, they release a security patch to fix it. This patch comes in the form of a software update. 
There are many reasons it's essential to stay on top of updates, but digital security is one of the most important. Cybercrimes are steadily increasing, and businesses are a favorite target for hackers. Companies store sensitive data ranging from customers' credit card numbers to intellectual property, and this data is incredibly valuable. Hackers can encrypt this data and demand a ransom for the decryption key, use a known vulnerability to take your business offline, or conduct any number of other malicious schemes. 
To add or remove features
Software updates are also issued to add new features, remove outdated features, and improve functionality. These updates can enhance the user experience and offer your company better tools for productivity and efficiency.
To offer new integrations
Updates can also be issued to make the software more compatible with popular programs. For example, Onehub recently updated its file-sharing and cloud storage platform to integrate DocuSign. This allows Onehub users to get electronic signatures from clients quickly and easily. 
What are the risks of not installing updates promptly?
It's important to install software updates as soon as possible. We're all guilty of hitting the "install update later" button when we're in the middle of something, but consistently putting off updates can have significant consequences.
Data breaches
The biggest risk of not staying on top of software updates is a cybersecurity attack. Updates act as a data safeguard, ensuring a malicious individual can't easily steal sensitive business information or hold your data for ransom. 
Once software has a known vulnerability, it becomes a favorite target for hackers because they already know exactly how to exploit it. There's no time-consuming guesswork involved. Even after a software company releases a security patch, hackers will still target these programs. They know that many people, especially employees, don't bother to update their computers or software. 
A good digital security plan can help employees understand the importance of data safeguards such as regular software updates.
Lower productivity
Not installing software updates also means your company is missing out on great new features that could dramatically improve collaboration, productivity, or efficiency. This risk is often overlooked since you're unlikely to know what you're missing out on. But competition among businesses is tight, and if your competitors are benefitting from faster, better tools, your business could fall behind. 
Unusable software
Installing updates ensures that your software stays compatible with your operating system and the other programs it interacts with. If you're behind on updates, you may find that some or all of the features of your software stop functioning. 
Lost time
The longer you put off computer updates, the more updates you'll need to install. If you stay on top of updates, you most likely won't have to wait very long for a single one to install. But if they've been piling up for months, it may take ages to complete all the updates. During that time, you're essentially out of commission work-wise. 
This is especially frustrating if your software has stopped working and you need it updated ASAP so you can meet an important deadline. You resign yourself to restarting your computer, anticipating a brief, single update, and instead, you have three months' work of updates being installed in succession. It's an easy situation to avoid; simply make software updates a regular part of your work routine.
Ensuring your business software stays updated company-wide
Choose cloud-based software
Cloud-based software such as Onehub doesn't require users to install updates. Every time you log in, you're accessing the most up-to-date version of your cloud software. This makes it extremely efficient and more secure since there's never any delay in installing vital security patches. 
Allow automatic updates
Many devices and software have an option to install updates automatically. Allowing automatic updates means you don't have to worry about remembering to check for or install updates. If you choose to do manual updates, it's helpful to pencil them into your work schedule so you don't forget.
Create a digital security plan
The best way to ensure software and devices are being regularly updated company-wide is to create a digital security plan. The plan should cover common cybersecurity threats and effective data safeguards such as regular updates, strong passwords, and two-factor authentication. Make sure employees know they are responsible for keeping their work devices updated, as well as any personal devices that they use for work.
Onehub can keep your company's data secure while providing first-class business tools for collaboration and productivity. Try Onehub for free for 14 days!
---