How to Choose a Dependable Cloud Storage Solution for Your Business
---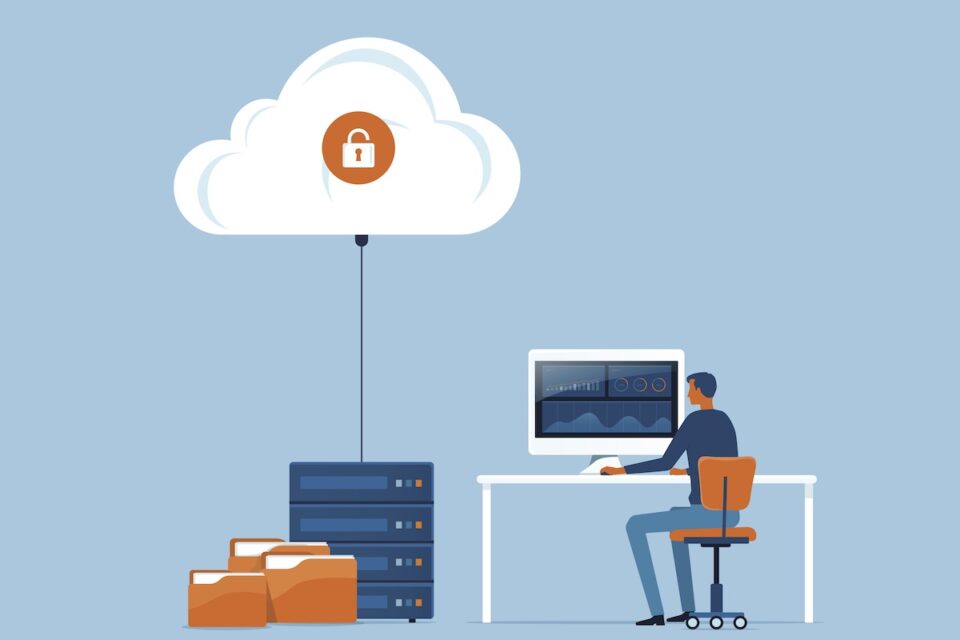 What is cloud storage?
The term "cloud storage" may sound abstract and ephemeral, but it's actually a secure method of storing your business files online. It eliminates the cost, security issues, and maintenance hassles that come with traditional on-site servers. 
It's no surprise that business owners are moving to the cloud in droves. With the cloud, you don't have to maintain or replace expensive hardware, it's simple to scale your storage up or down to suit your needs, and your data is protected with high-level security protocols that outperform those of physical servers. 
There are many online file storage providers, and they all offer something a little different. It can be overwhelming to try to narrow down the best options for your company. We've highlighted several important cloud storage features to look for as you start your search.
What to look for in online file storage
Security and dependability
Secure and dependable cloud storage is a necessity. If a provider can't immediately give you a breakdown of their security protocols and uptime, go ahead and scratch them off your list. Without these two basics, no other impressive tools or features will matter.
256-bit encryption
Encryption is the process of turning data from plaintext (readable) to ciphertext (unreadable until decrypted with a key). With 256-bit encryption — the same type that banks and the CIA use — it would take a hacker billions of years to crack the data with a brute force attack. No one's got that kind of time, so even if a hacker gets their hands on your business files, the data will be useless to them.
That's the level of security you want for your online file storage. Hackers are targeting businesses at an incredible rate, and they can do extensive damage to your company, your employees, and your customers if they get the data they're after. Keep your business secure by selecting a cloud storage provider that offers 256-bit encryption.
Roles and permissions
Roles and permissions are important security features for your online file storage. These allow you to customize access for each user and even specific files or folders. Look for providers with multiple options for roles and permissions to give you the flexibility you need for the wide variety of information companies store. If there are only two or three roles available, it may not provide the level of nuance that your company needs.
With permissions, you can customize access even further. For example, you may decide to share a file with someone but don't want them to download it or share it with anyone else. With a provider like Onehub, granular permission levels can be added or revoked with a single click. 
Two-factor authentication
Employees are the most valuable resource your business has, but they're also your biggest security risk. Despite knowing the importance of using strong, unique passwords, 83% of Americans use weak passwords that can be cracked within seconds. 
Usernames and passwords generally don't keep hackers out for long. The solution to this problem is two-factor authentication. This type of login requires a user to enter their username and password, followed by a second type of authentication. This can be a security token, a code sent to a mobile device, a thumbprint, or numerous other methods. 
The second type of authentication ensures that hackers can't access your system with just a username and password. Unless they've also stolen the security token, mobile device, or thumb of the person whose account they're hacking, their attempts are futile, and your data is safe.
Redundant backups
Businesses today simply can't function without on-demand access to their files, and good online storage providers understand this. That's why they back up your company files across multiple devices in multiple facilities. If an earthquake destroys a server, your company won't even notice because there's a secure backup of your data at another location. 
File sharing options
The best online file storage will offer several secure methods of sharing files. Inviting users to access a file or folder is standard practice, but it's also important to have an option for sharing files with people external to your organization. This allows people who are not users on your cloud storage platform to access the file without setting up an account. 
Onehub took this feature a step further. We allow users to send secure direct links that can be password protected and assigned an expiration date. Cloud storage providers that offer these additional features ensure you have the ultimate flexibility and security for your online file storage.
Collaboration and communication tools
Few successful companies are a one-person show. It takes collaboration and communication between colleagues for a business to consistently produce a quality product or service. Many cloud storage providers such as Onehub offer features that go beyond basic online file storage.  
A great cloud service can provide you with tools to make your team more effective. When evaluating your cloud options, check to see if the provider offers some of the popular features listed below. 
Tasks
Keep track of a project's progress by assigning tasks. Onehub allows users to assign tasks to others or themselves. Whether you use this tool as a personal to-do list or to monitor who is doing what and when, tasks will help keep important jobs from falling through the cracks. Having this easy-to-use task list means you don't have to expend any mental energy keeping up with the thousands of little details that bring a project together.
File syncing
File syncing is a must in today's busy world. It lets employees work on a file simultaneously, from anywhere on any device, and know that everyone is looking at the same information. If a team is stuck working in files that don't automatically sync, they're literally not on the same page. It's a recipe for confusion and misunderstandings. You can sidestep all that hassle by choosing a cloud service that has automatic file syncing.
File versioning
Like file syncing, file versioning is key to preventing projects from derailing and costing precious time and money. Automatic file versioning means your team never has to spend hours skimming through a file's contents trying to figure out if "important-project-FINAL2" or "important-project-FINAL-FINAL" is the real final version. 
File versioning keeps a history of changes made to the document, and they can be restored easily if needed. It's a fantastic feature for any business that relies on employee collaboration to get things done.
Comments and messaging
All work requires communication, so it's essential that you provide employees with a quick and easy way to get in touch with each other. This is especially true if your team sometimes works remotely. The Harvard Business Review noted that remote workers were often surprised by how difficult it was to get simple information from colleagues. 
You can facilitate easy communication between coworkers by selecting an online storage provider that has integrated communication channels. This lets workers get their questions answered without even leaving their digital workspace. It's a simple tool that saves employees a ton of time and frustration. 
Intuitive interface
Extensive research about what makes a great user experience is readily available online, so there's simply no excuse for a bad user interface in 2021. If a cloud storage provider has a clunky, confusing interface that requires in-depth training for employees to understand, you may want to keep looking. 
The right online file storage for your business will have a clean design that's not overwhelming to look at, and you'll intuitively know how to do all the basics such as uploading a file, creating a new folder, or inviting new users.
Good cloud storage design is a sign that a company cares about its customers and is competent in its field. 
Find a dependable cloud storage solution for your business
The tips we've covered here will help you evaluate different online storage solutions so you can choose one that's right for your business. You'll know when you've found the perfect fit because you and your employees will become more organized, communicate and collaborate better, and feel less overwhelmed with daily tasks. 
To really get a feel for how a cloud storage provider will benefit your organization, ask for a free test drive. Onehub offers a free 14-day trial so you have plenty of time to explore our features and make an informed decision for your business. Sign up today!
---