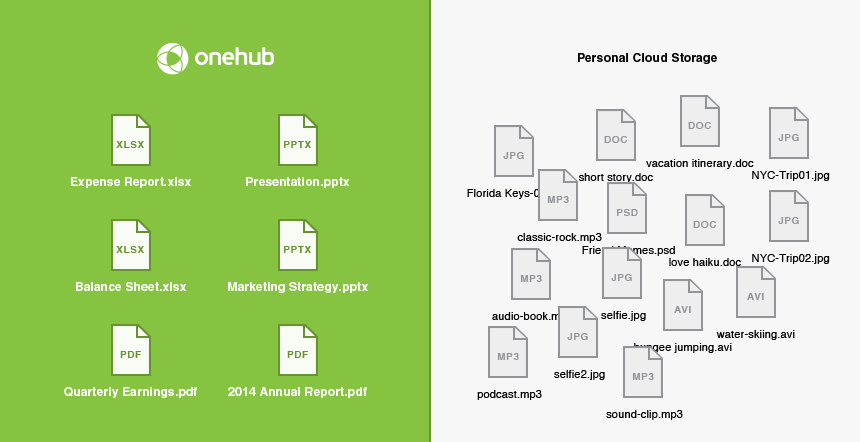 Amid the Apple news last week of a new TV box, new iPhones, and a bigger iPad was the small nugget that it cut the price of its iCloud storage in half. This is great news for consumers, who have another low(er)-cost option for storing data in the cloud.
But what's good for consumers, may not always be good for your business. People who use mass market cloud storage providers may wind up putting your corporate data in those personal accounts out of convenience or confusion if they have both a business and personal account with the same service.
The good news is that at Onehub, we're more interested in securely hosting your company's important financial documents than your family photos. We were built from the ground up to give businesses the best online collaboration experience.
Because Onehub is easy to set up and offers straightforward pricing, your company can quickly silo off business files from your employees' personal data in a completely different ecosystem. So your workers can keep using their preferred cloud provider for their photos, poems, or music — and use Onehub as the sole place for hosting sensitive business materials. (Though, with our broad array of supported file types, Onehub can actually handle your business related videos, music, CAD files and more.)
In addition to hosting corporate files on a completely different service, Onehub offers granular permissions controls, so account administrators can determine who gets access to which files and how they can interact with it.
Setting up an account solely for your business with Onehub lets your employees keep their existing personal accounts and can give IT managers more peace of mind knowing that company information is only being stored on one cloud service.
Best of all, you can try Onehub for free to see how it works. Or sign up for a full year for less than the cost of Apple's new iPhone upgrade plan.