Keep Your Business Data Safe and Secure With Onehub
Posted On December 14, 2020
---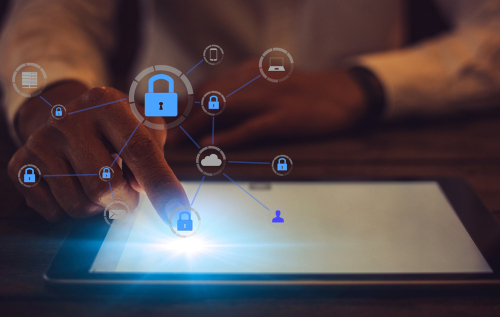 Data security is one of the most important factors to consider when choosing how to store and share your business files. Some company decision-makers are hesitant to upgrade to cloud storage and file sharing due to concerns about protecting sensitive information. While no file storage solution is foolproof, cloud storage offers advanced protections that local servers can't provide.
In a 2020 report, IBM revealed that the average cost of a data breach is $3.84 million. That's a devastating price tag for many companies. In addition to the monetary losses, compromised data can also erase valuable information or damage your company's reputation with customers. 
Onehub understands that if your data isn't safe, nothing else matters. We dedicate significant time to developing and implementing the most secure safety protocols to protect your intellectual property and other sensitive files. 
Onehub security features
Bank-level protection means your data is as secure as your money. 
Cloud storage operates almost like a bank. In both cases, customers store something valuable with a third party and rely on the more expansive security options a third party can provide. 
Onehub continues the similarities by using the same 256-bit encryption and physical security policies as banks for the most secure cloud storage experience. We also use Secure Sockets Layers (SSL) to establish encrypted links between networked computers. Every communication is sent over this secure connection. Our service has 24/7 monitoring, and our practices are verified by VeriSign, a trusted resource for identifying safe, legitimate websites and security practices.
Encrypted backups across multiple facilities keep your information secure no matter what challenges arise.
Backing up your files is a fundamental tenet of data security. Many business owners feel more confident in the safety of their information when files are on an in-house server. This does make data somewhat more secure from hackers, but it doesn't protect your valuable documents from a server crash, damaged hardware, or human error. It's also much more expensive than the cloud, with hefty up-front investments in hardware and ongoing costs for critical maintenance.
Even if you want to stick with a local server for your primary file sharing and storage needs, there are significant benefits to using the cloud for your backups. 
With Onehub, your backups are encrypted using 256-bit encryption and stored across multiple devices and multiple facilities. This protects your data from online threats as well as any hardware failures or natural disasters. 
We regularly assess the integrity of your data using checksums, an alphanumeric value that represents the data on a file. If we find any flaws, we automatically repair them using redundant data, so your business never misses a beat. 
Two-factor authentication keeps your files secure even if your passwords are compromised.
Two-factor authentication (2FA) is a quick additional login step that ups the security of your accounts. Using an authorized device such as your cell phone, you'll receive a randomly generated login code after entering your username and password. This code can be obtained either by an authenticator app or via text message. Without the code, your login can't be completed. This means that even if a hacker steals your username and password, they can't access your account. 
According to Google's research, two-factor authentication helps "block 100% of automated bots, 96% of bulk phishing attacks, and 76% of targeted attacks." Essentially, 2FA adds another layer of protection to your account, meaning you don't have to stress about the safety of your sensitive company information.
Onehub clients with Advanced, Unlimited, and Data Room plans can require users to enable 2FA to ensure documents are protected across every user. You can follow these steps to enable two-factor authentication in your Onehub account. 
Data rooms provide the highest level of security for your most confidential files.
The first step to secure cloud storage and file sharing is understanding what level of security you need. If your company needs to share files that contain highly confidential information (e.g., company acquisitions, due diligence process, IPOs, funding rounds), you need a storage solution with the highest protection level.
You might ask, "Why not choose the most secure option every time?" Well, you definitely can do that, but it's the difference between storing your data in a bank vault and storing it in Fort Knox. Both are very secure, but one offers top-level security that comes with a higher price tag. To keep costs low, you want to align your security level with the level of confidentiality your documents require.
When you do need Fort Knox, we've got you covered with virtual data rooms, our most secure cloud storage option. You can turn any traditional Workspace into a data room, ratcheting up file sharing security with distinct features such as the ability to partition file access or to keep users and their activities anonymous from other parties.
Roles and permissions let you customize the way each person can interact with your files.
Securely sending your files to another user is just the first step. Once they receive the data, you need to decide what they're allowed to do with them from there. 
Our roles and permissions features allow you to confidently share documents with customers or employees by controlling what level of access each person is allowed to have. We provide seven levels of roles, from viewer to administrator, that enable you to customize access on a granular level. 
Meetup, a Onehub client, regularly uses customizable roles to share corporate documents with shareholders and potential investors securely. Meetup Attorney David Pashman says, "The consumer-based file sharing services we were already using didn't have the level of granularity we needed for controlling access and privileges…Onehub lets us control whether someone has the right to print or share our files, which is important to our business." 
Audit trails and document watermarks allow you to trace the usage history back to the source to maintain user compliance.
Our audit trails give you all the information you need to protect your data. You can track and audit anything a user does in a Workspace. Enable notifications to be alerted when someone accesses a Workspace, views a preview, downloads a file, or prints a document. This helps you maintain user compliance, so you know your data is being used correctly.
Document watermarks enable you to safely share confidential information by customizing each watermark to the individual user. When watermarking is activated, "CONFIDENTIAL" appears across the document along with the viewer's email address or an IP address for guest users. If the user leaks your confidential files, either intentionally or by mistake, you can trace the information back to the source quickly. Once a watermark is added to a file, it can't be edited or removed by the recipient. 
Don't take risks with your company's valuable data. 
We do everything in our power to keep our customers safe from the latest threats. Use Onehub for your secure cloud storage and file sharing needs. Try Onehub for free to see our security features in action. 
---