Streamlining Document Approvals for Better Project Management
---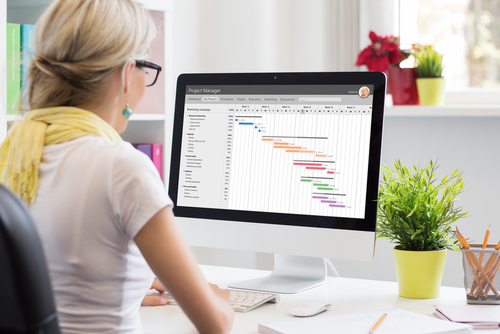 Project managers are the unsung superheroes of the professional world, but document approvals are their kryptonite. All the delicate work of navigating a team's disparate personalities, accounting for their strengths and weaknesses, and keeping a close eye on approaching deadlines is for naught if the work isn't approved in a timely manner.
Every project reaches a point where work can't continue without another person's approval, usually a paying client. So, how do you get a document approved on time without harassing your client?
Create a secure, standardized system for document approvals
Select the right business software
We're well past the days of managing projects with paper files strewn across desks or never-ending email threads with attachments buried so deep you'll never see them again.
Successful companies need technology solutions such as Onehub to keep documents organized, provide secure file sharing and storage, enable easy collaboration, and give admins total control over each users' access level.
If your company doesn't have designated software for file sharing and project management, or what you have isn't fully meeting your team's needs, it's time to find a better way.
A great tech solution for project management will include:
Secure file sharing
File security is number one on this list because it should be a non-negotiable requirement for any business software you're considering. Business files are too valuable to risk a security breach. It puts your company's intellectual property at risk and can permanently damage your brand's reputation if your customer data is leaked.
Onehub uses bank-level encryption to provide the best protection for your company's files and communications. We take data security very seriously, and any business software provider you're considering should do the same.
Easy approvals
It's human nature to put off tasks that seem like a hassle, so document approvals need to be as easy as possible to ensure clients get to them quickly.
Look for software that conveniently keeps everything in one place and sends automatic notifications about approval tasks. Automatic notifications mean you don't have to worry about informing your clients about the documents waiting for their review.
For maximum convenience, when clients click the link within their notification, they should be able to easily access the document and read any related comments left for them by your team.
In-browser document previews are another great feature to look for. It saves clients time and hassle by eliminating the need to download the file and open it in another application. When the moment finally comes for the client's approval, they should be able to do it with one simple click.
Roles and permissions for security
While you need client approvals to complete projects, you don't necessarily want to give them free rein within the project management platform.
Most projects have a mix of files that are client facing and ones that are only meant for internal use. It's important to keep all these project files together for organization and convenience, but you need to control what your clients can see. Software with precise roles and permissions makes this easy.
It's also important to consider what you want your clients to do with the files. For example, if you've submitted a document for approval that contains carefully worded legal statements, you probably don't want your client changing those directly in the document. Instead, you can give view-only privileges, and the client can leave a comment with the concerns they want addressed before final approval.
To keep approvals on track and sensitive files secure, be sure to select a provider that offers granular control over roles and permissions.
Collaboration tools
Collaboration is an essential part of any well-functioning business. An all-in-one platform that provides collaboration features in addition to data security and easy approvals will ensure you get the most out of your project management solution.
Some of the most important collaboration tools are messaging, task assignments, file synchronization, and file version control. Messaging and tasks support easy communication between colleagues and make it clear what work needs to be done. File syncing and version control keep everyone working with the most up-to-date information no matter what devices they're using.
Standardize the procedure
Have a written plan for document approvals. Include this information as part of your onboarding and make the information easily accessible to all employees.
The plan should cover these basics:
How to submit a document for approval
How to notify the client that there's a document ready for them to review
What level of file access clients need for approval
How to set a deadline for the approval
The details of how these steps work will vary depending on the business software your company uses.
In Onehub, admins can invite clients to a digital Workspace or Client Portal and choose the level of access they should have. Employees can then add the document that needs approval to the platform and create an approval task for the client that includes a deadline. The client will automatically receive a notification once the task has been assigned. They can easily view the task, notes, and document in one place, and they can finalize the approval with one click.
When you make your document approvals simple, clients are less likely to put off doing them. It also makes it much easier for the team to keep track of any comments or questions a client may have in addition to tracking approvals.
Educate your clients on document approvals
One big reason clients may delay approving a project milestone is that they're not sure how to do it properly. Managers tend to focus on instructing their teams on what needs to be done for a client's project and often overlook the fact that the client needs instruction, too.
Clients need to know 2 key things about document approvals
How do they approve a document?
Your client needs to know how to provide approvals. These days, most companies use business software to share files securely, communicate with their teams efficiently, and keep important documents organized.
The software your company uses may not be familiar to your client. Document approvals that seem obvious to you could leave your clients feeling overwhelmed or confused as they navigate an unfamiliar platform.
It only takes a few minutes to educate your clients on where to find the documents submitted for approval, how to leave comments or questions for your team, and how to finalize approval.
What is the deadline for the document approval?
Your team may need approvals done within a specific time period to keep the project on deadline, but did anyone tell the client that?
Clients don't know how your team works or how long specific tasks will take to complete. If the final project deadline is weeks away, they may feel they have plenty of time to review milestone documents. Meanwhile, your team is staring at the clock trying to figure out how they'll manage to complete the rest of their work within the ever-shrinking time frame.
With just a little instruction, your clients will feel more confident with the document review process and will understand the need for prompt approvals. Rather than a hindrance, client approvals will become a valuable part of your project management.
Putting it all together
To keep your projects running smoothly, you need a document approval plan, client education, and a robust technology solution that provides secure file sharing, simple approvals, and valuable collaboration features.
Try out Onehub's file-sharing and project management tools to see how much better document approvals can be. Sign up today for our free 14-day trial!
---