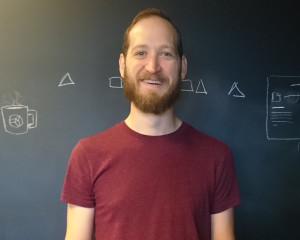 At Onehub, we hope to minimize the amount of customer support you'll actually need, and for when it's necessary, we want it to be the best experience for you. Our support team is staffed by real, live people (not robots), who are happy to help.
The newest addition to our team is Chris Turner, Onehub Customer Support Engineer. He's been with us for a month now, learning the ropes from Amy and the rest of the Onehub team. Now that he's fully ingrained, we thought we'd give him a proper introduction.
WHAT DO YOU DO AS A CUSTOMER SUPPORT ENGINEER?
I help customers when they have questions about the service, or need some help with their account.
WHERE WERE YOU BEFORE?
I did software and hardware quality assurance testing for a company called i1 Biometrics, which makes mouthguards that measure the velocity and placement of a hit in football.
WHY DID YOU WANT TO JOIN ONEHUB?
It was a good opportunity to point my career in a different direction, and I liked the team and the product. Plus, it was a closer commute, which is never a bad thing.
WHAT'S YOUR TYPICAL DAY?
I've been here since September 8th and my days are usually: come in and check my tickets and email and reply to any customer questions. If someone emails us, I always try to get back to them with an answer in under two hours. I'm also available via phone, chat, and message throughout the business day for more immediate issues.
WHAT ARE SOME COMMON QUESTIONS?
Mostly people are looking to access their bill, change their email address, reset their password, etc.
WHAT DO YOU DO IN YOUR SPARE TIME?
I'm a huge cyclist. I've done the Seattle to Portland ride four times, each as a one day rider. I have four bikes that I'm currently trying to figure out how to keep in my condo. I like cycling because it's a good time to meditate and think about my life and where I want to be. Plus, it's challenging and a strenuous workout. I love it. Even in bad weather, I love it.
ANYTHING ELSE?
I'm excited to be here and see what I can do for Onehub and our customers!