One of the best pieces of fashion advice (stay with me) I ever got was: your shoes should match your belt which should match your watch. Coordinate all three to make a more polished look. The same could be said for your business file sharing, which is why we offer awesome branding tools such as customization, whitelabeling and custom domains. When you activate all three, you unlock the most professional, polished version of your business collaboration that will be more efficient and impress any client or customer.
Custom Branding
Our logo upload and brand color customization tools are included with every Onehub subscription. Upload your company's logo and paint the background with your corporate colors so your file sharing matches your brand's look-and-feel. Adding your brand elements to Onehub is easy, provides a nice visual cue for collaborators and shows that you care about their experience.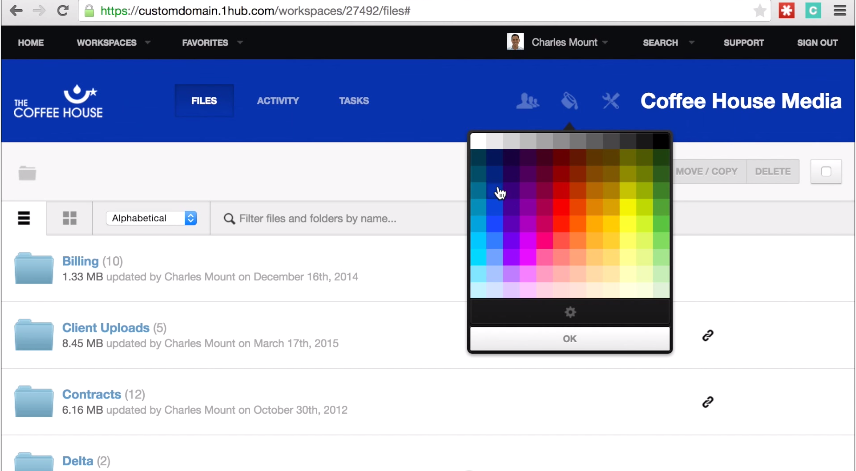 Once you've re-created your look-and-feel, it's time to level up your file sharing with our whitelabeling and custom domain option. Our whitelabeling and custom domain package is included with every Enterprise subscription and is available for our Team and Business subscribers for $100/month.
Whitelabeling
With whitelabeling, you can erase all the Onehub logos and branding from your Workspaces. This puts your brand front and center. Every Workspace and invite will have your logo and you can use a custom email address from which all Onehub-related emails will come. You still get to take advantage of our bank-level security and awesome array of collaboration tools — but your customers and clients will only see and interact with your brand.
Custom Domain
Now that you've scrubbed Onehub's logo from your file sharing, make your collaboration truly seamless by moving your Onehub file sharing to a custom domain that you control. So instead of sending users to a onehub.com address to view or retrieve a file, take them to a URL of your own and that is associated with your company.
When you use custom branding, whitelabeling and custom domains in unison, you create a perfectly integrated collaboration experience that gives you greater control over your file sharing, improves efficiency and impresses clients and customers alike. (One good way to celebrate all those improvements? Buy a new pair of shoes!)
For more on getting the most out of your Onehub experience contact our success team at sales@onehub.com or (877)644-7774.