File Sharing for Startups: 3 Solutions to Common Hurdles
---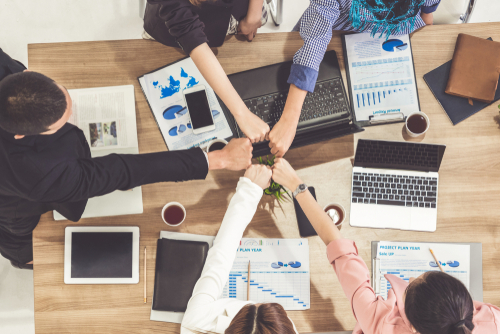 Startups are what the American dream is made up of. Perhaps that's why there were nearly 31 million small businesses in the U.S. in 2019.
While the typical small size of a startup allows it to be more versatile and agile than its oversized competitors, they often face unique challenges as well. Between never-ending to-do lists, funding fumbles, and navigating industry technology, startups can crumble before their foundation is even poured.
There are services and tools that can help startups not just stay in the game but come out ahead of their competitors. One such tool is Onehub, a cloud-based platform offering secure file sharing and collaboration tools for startups in a variety of industries.
If you're a startup struggling to keep your head above water, see how Onehub's file sharing solution for startups can help.
5 Common Startup Challenges (with Solutions from Onehub)
Of course Onehub can help startups store and share files securely and confidently. But here are three ways the file sharing service can help with other common startup challenges.
Limited funding
Startups aren't known for having piles of cash available for marketing, supplies, and payroll. While raising funds should always be on a startup's radar, finding ways to stretch the budget they do have is important as well.
A cloud storage solution like Onehub won't directly put money in a startup's bank account. But it can help in several indirect ways.
For example, studies show that the equivalent of one working day per week is wasted by employee's searching for job-related documents. Onehub can help make every payroll hour count with their organizational and document search features. 
Onehub's collaboration and personalization tools can help startups impress and secure more clients, ideally growing their financial resources for the future. 
Onehub's virtual data rooms can help startups go through fundraising rounds to earn more capital and has the features you require and expect from data rooms, all without breaking the budget.
And finally, Onehub also offers users four different pricing tiers, allowing startups to choose the features they need without going over budget.
Time management
Research has shown that up to 70% of a CEOs schedule is spent on tasks that don't add up to great time management skills. This can be especially true in a startup, where the to-do lists tend to grow and the hours in a day stay the same.
Onehub helps teams, whether made of a sole CEO or a small army of hungry entrepreneurs, boost productivity levels by simplifying several common business processes.
Need to send an email to a client reminding them to sign their contract? Just send a message through your client portal in Onehub that not only nudges your client to sign but lets them view all submitted documents, including the original proposal, in one place.
Do you need to send the new employee handbook to your team? Securely share a link in a matter of seconds that will have everyone updated on company policy. Don't want employees having access to such documents if they leave the company? You can revoke viewing privileges at any time. 
Can't find the rough draft of a lead magnet you were working on? No worries. Once it's stored in Onehub, you can search through your files to highlight text, saving you time and stress.
Onehub might not be able to help the new intern make coffee any faster, but it can shave off time from multiple tasks throughout the day, adding up to better time management and improved productivity.
New startup smell
A 2019 survey found that ⅓ of Americans say that due to financial struggles, trusting a brand is more important than ever. Consumers with tight purse strings aren't likely to take a risk buying from a brand that seems inexperienced, or "too new." If you want potential customers to stop focusing on your fresh foundation, take advantage of Onehub's personalization and branding features. These include:
Logo and custom colors – Create a designed virtual space that customers will instantly recognize.
Branded emails – Nothing turns off a potential customer faster than a generic email. Onehub helps you send branded emails that build trust.
White label support – Onehub can be your best-kept secret with white label support, which removes all Onehub branding from your account for a seamless customer experience.
Offering a more personalized experience can increase sales 20 percent. Onehub can help startups, including those in their infancy, create trusting relationships through personalization features that quickly build a professional and consistent brand.
Is Onehub Your Startup's Missing Ingredient?
You've already proven you have grit and determination by getting your startup off the ground. Just keep in mind that there's no reward for taking a harder road than your competitors. Leverage every available tool, including file sharing for startups, and you'll be better equipped for success. 
If Onehub could be a catalytic tool for your startup, reach out today with your questions or ask for a free demo.
---