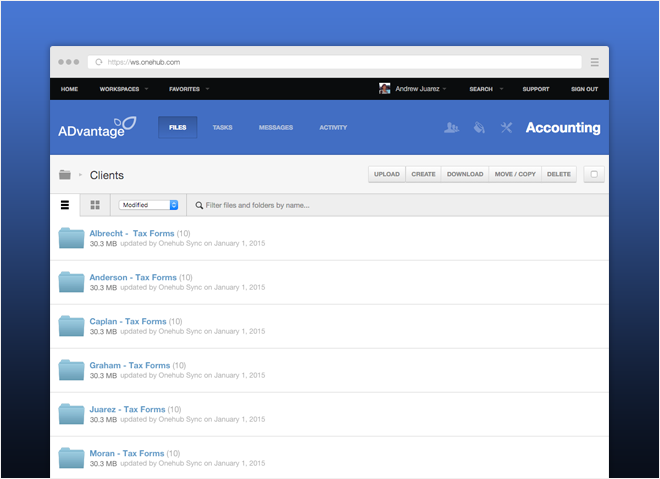 I dropped off all my tax materials with my accountant earlier this week. I love my accountant, but her electronic collaboration tools could use some upgrading. Sure, I can email and upload documents to her, but I wish she had a more unified solution, like a client portal.
As we've talked about before, client portals are a way for service firms (like accountants) to electronically share documents with all their clients from a central location. The ability to easily and affordably create client portals is one of our most popular features. If you are an accountant looking to make the crunch of tax time a little easier on your firm, here's how you can create your own client portal in Onehub today.
Step 1 – Customize your Workspaces
Onehub's branding tools allow you to give your Workspaces your firm's look and feel. Upload your logo and change the colors exactly as you want them so your business collaboration reflects your business.
Step 2 – Adjust your permissions
Does everyone you share information with need the same level of access and interaction? Onehub lets you assign role-based permissions such as "Viewer," "Printer," and "Collaborator" to specific files and folders. Setting the right permissions allows you to invite more free users rather than adding paid ones to your account. You can also take advantage of our secure links to share files without requiring the user to have a Onehub account.
Step 3 – Use our communication tools
Simplify interactions with Onehub's tasks and commenting features. Assign clients with an "Approve" or "Review" task to give them specific directives around materials. Let them know they can add comments alongside files so you can unify communication in Onehub rather than splintering notes off into their own email threads.
Step 4 – Set up a sign in form
Allow clients to sign into and access shared Onehub files with our embeddable sign in forms that you can insert directly into your firm's web page. To create a form, visit your Account Settings > Custom Sign In Form. Enter your preferred domains, generate the code snippet and paste into your site.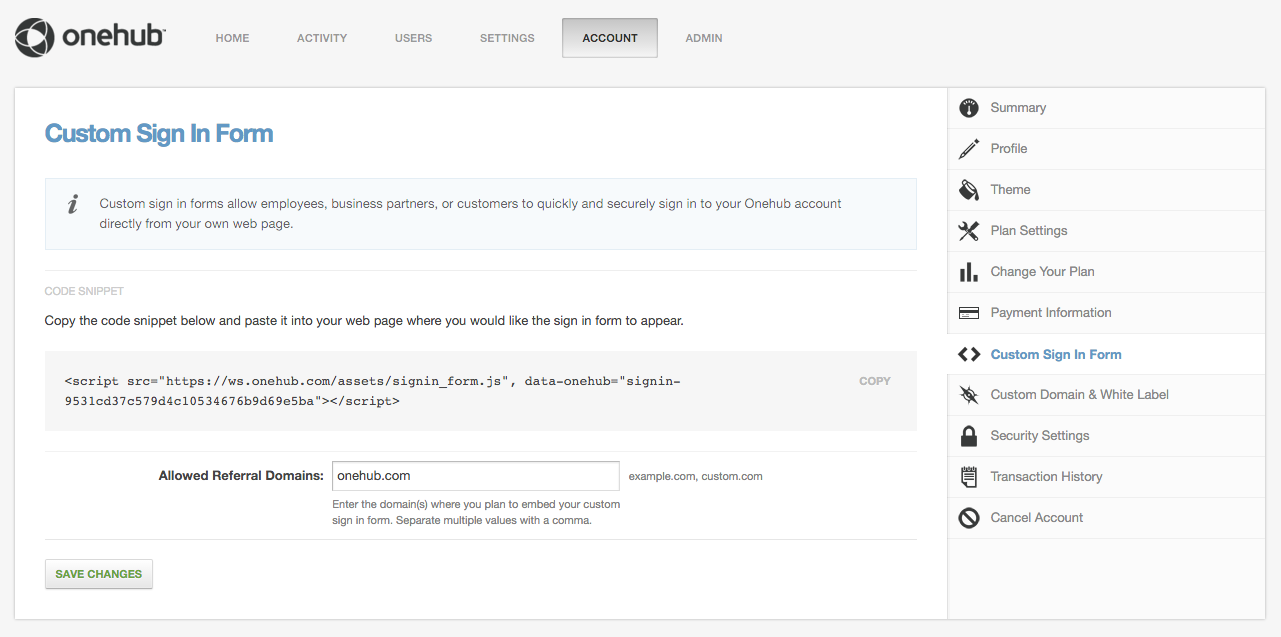 Step 5 – Add white labeling and custom domain mapping
To give your clients the full client portal experience, add our white labeling and custom domain feature. White labeling removes all the Onehub logos from your business collaboration through us, so clients will only ever encounter your firm's branding. And with custom domain mapping, all your business file collaboration goes onto a site that you control. It's a seamless user experience!
If you are a Onehub customer, our support team can help you create a client portal in no time. If you are interested in becoming a Onehub customer, you can contact our sales team for more information, or try us out for free!